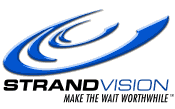 FOR IMMEDIATE RELEASE
EAU CLAIRE, Wis. - Jan. 8, 2007 - StrandVision LLC (http://www.strandvision.com), a provider of hosted digital signage services, today announced that Manpower of West Central and Central Wisconsin (http://www.mnpwr.com) has deployed a digital signage system in its Eau Claire office. The installation is a first in region's network of nine offices. The digital sign uses a 42" plasma screen in the lobby to inform job applicants and employees about position postings and to provide interviewing tips, safety information, training schedules and other items of interest. The signage is also used to welcome prospective clients when they visit the office.
The Eau Claire office, which places candidates in light industrial, office administration and customer service positions, also has a professional division. Its lobby area is busy since job applicant traffic is high and the office conducts many training programs.
"Prospective applicants and employees can be in our office for as little as a few minutes or much longer if applying for specific positions or participating in training orientations," commented Lisa Fiore, Manpower of West Central and Central Wisconsin office manager. "The digital sign gives us the opportunity to maximize their wait time and present them with some important information."
Currently, the digital sign has job search, resume and interview basics; recaps job market information and employment survey results; shows Manpower goals and mission; promotes Manpower's free Global Learning Center for employees; and reminds visitors of its cash bonus referral program. It is also showing current local weather conditions, provided by StrandVision.
The digital signage system consists of the plasma screen and a personal computer that is connected over the Internet to StrandVision's server. Manpower staff simply log in using a Web browser to enter and/or update information. The changes show up on the screen almost immediately. Staff members also can upload graphics and ads, and change the sign layouts and designs to keep them fresh. Although not implemented, Manpower television ads and other videos can also be displayed over the system.
Said Mike Strand, StrandVision founder and CEO, "This is an excellent application for StrandVision digital signs. Manpower has high traffic and a real need to communicate with applicants and employees as they wait. In this case, digital signs don't replace other forms of communications, such as printed job listings or employee handbooks, but they do give Manpower the opportunity to highlight some important information and, as we like to say, 'Make the Wait Worthwhile'."
About StrandVision
StrandVision LLC, previously Online-Kiosks, delivers low-cost, high-availability hosted digital signage services through a patent-pending, Internet-based approach that eliminates the need for complex and expensive onsite hardware. It delivers content directly to subscribers' televisions, including LCD and plasma displays, and computer screens. StrandVision's Web-based service makes it easy to set up, maintain and quickly distribute text messages and graphics, including advertisements, video content, and national and local weather and news. It is ideal for medical and dental offices (patient education), banks, retailers and industrial distributors (video merchandising), employee break rooms (events and benefits), non-profit and religious organizations (client and funder communications), and other applications. StrandVision Digital Signage services are available directly from StrandVision and through registered affiliates and system integrators (www.strandvision.com/digital_signage_installers.html). Additional information about StrandVision and a free trial subscription are available at www.strandvision.com, by calling or emailing sales at StrandVision.com.
###
All trademarks are the property of their respective owners.
EDITORS: For further information:
Mike Strand
StrandVision Digital Signage
6595 South Shore Drive
Altoona, WI 54720-2386
715-235-SIGN (7446)
mjstrandweb at StrandVision.com
More information: http://www.prweb.com/releases/2007/1/prweb495239.htm