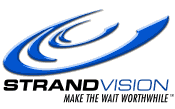 FOR IMMEDIATE RELEASE
DALLAS, Pa. - May 15, 2012 - StrandVision Digital Signage and Mercy Center Nursing Unit, Inc. today announced that StrandVision Digital Signage is being used to stream information to residents' rooms over the facility's cable TV system. Mercy Center, a 140 bed facility, is comprised of a skilled nursing unit and a personal care unit. Owned by the Sisters of Mercy, Mercy Center offers a caring and compassionate environment for its residents.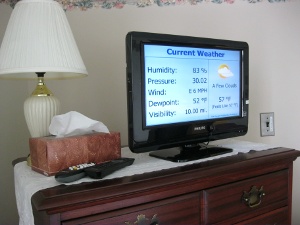 The Internet-based system, installed by Guyette Communications Industries Corp. of Plymouth, Pa., carries information programming for Mercy Center's 140 residents that includes a welcome message, as well as menus, activities, date, time and weather, bingo numbers and special events, such as birthdays and holiday greetings. Residents simply select the in-house channel on their television sets. The channel also is used to broadcast daily Mass.
The digital signage content is delivered by StrandVision over the Internet to a pre-configured Linux digital signage player that is integrated into the existing cable system. Weather, date and time information are updated in real time automatically by StrandVision while resident activities and notices are scheduled and posted by Mercy Center staff using StrandVision's Internet-based Content Management System.
The system is working well. "Feedback from the residents is that they really like it," commented Rich Heiser, Mercy Center's tech who oversees the digital signage, information technology and other systems. "We'd like to add a few monitors in our lobbies on both our personal care and skilled nursing sides. We're also considering adding another channel of programming in some of the lobby areas."
"Mercy Center is making creative use of the digital signage system -sending scheduled messages directly to viewers in their rooms," said Mike Strand StrandVision founder and CEO. "It reaches the residents where they spend the most time, which makes it as convenient as possible. The staff is able to post notices with minimal effort with the knowledge that it's easily accessible to everyone who wants the information."
About StrandVision
StrandVision LLC, based in Menomonie, Wisconsin, delivers low-cost, Web-based digital signage software through a patented Software as a Service (SaaS) approach that delivers content to subscribers' LCD flat panel screens, as well as computer screens and websites. StrandVision's service distributes text and graphics pages, video content and national and local weather and news. It is ideal for many large and small business marketing applications, including medical and dental offices (patient education); banks, retailers and industrial distributors (video merchandising); education (student communication, staff and visitor information); employee break rooms (employee communication of events and benefits); nonprofit and religious organizations (member and supporter communication).
StrandVision also offers PC-2-TV.net, a fully digital, high-definition (HD) video extender to connect a computer to a television over long distances for use with digital signage and many other applications. StrandVision Digital Signage services and PC-2-TV.net are available directly from StrandVision and through registered affiliates and system integrators. Additional information about StrandVision Digital Signage is available at StrandVision.com, by calling or emailing sales at StrandVision.com.
###
All trademarks are the property of their respective owners.
EDITORS: For further information:
Mike Strand
StrandVision Digital Signage
6595 South Shore Drive
Altoona, WI 54720-2386
715-235-SIGN (7446)
mjstrandweb at StrandVision.com