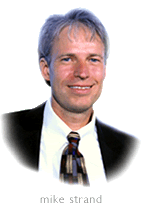 Mike Strand is founder and CEO of StrandVision, LLC, (www.strandvision.com) an online digital signage company, which he launched in 2005. The Corporation, located in Eau Claire, Wisconsin, was launched after Strand invested two years in product development and market research.
StrandVision has already attracted industry attention. In June of 2005, Strand received a $10,000 award for first place in the information technology/e-commerce category of the Wisconsin Governor's Business Plan Contest organized through the Wisconsin Technology Council. In October of 2005 he garnered another $10,000 award with first place in the Chippewa Valley Business Plan Competition.
StrandVision brings together Strand's interest in emerging technologies, solving business challenges and changing the pricing metrics of systems. StrandVision takes a new approach to digital signage - Internet hosting - that fundamentally changes the ways that businesses can communicate with their employees, customers and visitors.
By delivering graphical information to standard computer and television display terminals from a central, StrandVision-hosted, server, StrandVision's approach eliminates the technical and staffing challenges of digital signage. By introducing a low monthly subscription rate, StrandVision also eliminates the high initial startup costs (usually thousands of dollars) required to implement digital signage programs.
StrandVision supports a number of industries, including banks and credit unions, grocery and retail stores, health clubs, hotels, medical facility waiting rooms, restaurants and service centers, as well as employee communications in lobbies, break rooms, etc.
Strand is marketing StrandVision directly over the Web and through a network of value added resellers and systems integrators who help customer design, implement and support their digital signage installations.
StrandVision is Strand's second major venture. Previously, he was founder and CEO of StrandWare, Inc. a bar code label software company that he led to the top of the market before selling to Teklynx, a Brady Corporation operating unit based out of Milwaukee, Wisconsin, in 2001.
StrandWare, founded in 1988, took a similar approach to the emerging bar code software industry. He introduced low-cost, full-featured bar code software that extended the market to smaller retailers, manufacturers and suppliers. Strand's privately owned company helped bar code technology evolve from supermarket and standalone applications to high tech, enterprise-wide solutions for diverse applications for government, laboratories, manufacturing and virtually every industry with bar coding and asset tracking needs.
With an earnest focus on customer satisfaction, Strand's company saw explosive growth early on and built a comprehensive worldwide network of over 2000 distributors, value added resellers, system integrators, consultants and strategic alliance partners. The company also sold to most international markets, including central and South America, the Far East and Europe, and maintained a European sales office in The Netherlands.
The company had installations at major institutions and Fortune 500 retailers, such as General Motors, WAL-MART Stores, Exxon, General Electric, IBM, American Express, Harvard Medical, Lear Jet, Microsoft, New York Dept. of Corrections, The Smithsonian, and the U.S. Navy.
Strand's company continually introduced products that provide innovative capabilities and channel partner programs that built solid, long-term relationships with the end user and channel customer base. The company set the direction for many aspects of the bar coding industry.
In addition to becoming a leading name in the bar code industry, StrandWare received several industry awards, including Readers' Choice awards from ID Systems and Data Based Advisor magazines. StrandWare was also an early recipient of the Chippewa Valley Business Plan Competition award.
Strand started his career at Cray Research, Inc. in 1982 as a programmer analyst working directly for Seymour Cray, the founder. From 1986-1988, he was a programmer with Wisconsin-based Delta Technology International, Inc., a fast growing computer software development and marketing company involved in information technology channel products.
Strand received degrees in Industrial Electronic Technology and Data Processing from Chippewa Valley Technical College in Eau Claire, Wisconsin. He owns the Strand Building, a 42,000 sq. ft. office building, on Continental Drive in Eau Claire. Strand lives with his wife and three children in Eau Claire.
October 2005