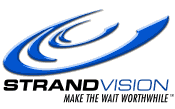 FOR IMMEDIATE RELEASE
MENOMONIE, Wis. - August 20, 2013 - StrandVision Digital Signage, today announced an innovative digital signage utility that enables electronic sign administrators to monitor the status of their StrandVision Digital Signage networks via a desktop PC or a smart phone from anywhere and at any time.
The new notification utility employs familiar and easily understood stoplight icons to indicate overall and individual digital media player status. Green obviously signals normal operations; Yellow indicates a potential problem that usually has not yet affected signage operation; Red indicates a communication or player issue that has put the digital media player in automatic recovery mode while it waits for updates.
"StrandVision Digital Signage's patented delivery system is rock solid but occasionally there are Internet or in-building distribution, power or media player issues," commented Mike Strand StrandVision founder and CEO. "This new dashboard provides an instant snapshot of any digital media player that may be powered down or has rebooted due to a Microsoft update. Our smart phone utility lets administrators keep an eye on things to immediately address the situation and confirm the recovery results."
Remote Monitoring – Instant Response
Administrators can easily see the signage status at a glance and drill down as necessary. The free smart phone monitoring utility is especially helpful for administrators of multiple digital signage networks. In that case, the top level stoplight indicates if there is an issue with any player in the system. Administrators are then able to drill down through the individual networks to zero in on the specific digital signage player at issue. Specific details for any electronic sign player can be seen by clicking on the appropriate stoplight.
This new capability supplements StrandVision's automatic email notification system that sends status notifications to administrators and/or designated technical staff.
"This is another example of a customer request being translated into a free digital signage feature," said Strand. "In this case, the administrator of a major Midwest hospital network mentioned that he would like to be able to remotely check on the status of their digital signage network from his phone and we knew that others could benefit from such a smart phone notification utility."
The free StrandVision Digital Signage smart phone utility is available immediately to registered subscribers. Subscribers simply log onto their online accounts at the StrandVision portal at
www.StrandVision.com
select "Your Account" and then the "Snapshot" option.
About StrandVision
StrandVision LLC, based in Menomonie, Wis., delivers low-cost, Web-based digital signage software through a patented Software as a Service (SaaS) approach that delivers content to subscribers' LCD flat panel screens, as well as computer screens, websites and mobile devices. StrandVision's service distributes text and graphics pages, video content and national and local weather and news. It is ideal for many large and small business marketing applications, including medical and dental offices (patient education); banks, retailers and industrial distributors (video merchandising); education (student communication, staff and visitor information); employee break rooms (employee communication of events and benefits); nonprofit and religious organizations (member and supporter communication).
StrandVision also offers
PC-2-TV.net
, a fully digital, high-definition (HD)
video extender
to connect a computer to a television over long distances for use with digital signage and many other applications. StrandVision Digital Signage services and PC-2-TV.net are available directly from StrandVision and through registered affiliates and
system integrators
. Additional information about StrandVision
Digital Signage
is available at
StrandVision.com
, by calling or emailing
sales at StrandVision.com
.
###
All trademarks are the property of their respective owners.
EDITORS: For further information:
Mike Strand
StrandVision Digital Signage
6595 South Shore Drive
Altoona, WI 54720-2386
715-235-SIGN (7446)
mjstrandweb at StrandVision.com