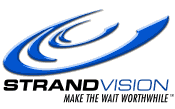 FOR IMMEDIATE RELEASE
MOORESVILLE, N.C. - Sept. 1, 2009 - Mooresville-South Iredell Chamber of Commerce, working with SANDA Inc., has installed StrandVision Digital Signage at its office and on its Web site to keep members informed and reach out to the public.
The Chamber installed two flat-screen digital signage displays in its office - a 25" screen in the front lobby and a 40" screen in another public room where gatherings are held. The StrandVision Digital Signage software communicates a wide range of information, including notices of the day's and week's events, photos from past events, sponsor notices, local news and weather.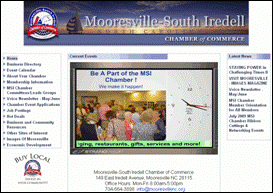 The digital signage installation helps the Chamber meet its objective to expand support for the 1,100 members. Explained Karen Shore, president and CEO, "We have several communications vehicles, from newsletters, to radio and television, to our Web site. We want to use every tool we can to support our members by helping them promote their businesses. We also have many visitors stop by the office who are interested in moving to the area. We want to give them a great experience, useful information and a good feeling about our local business community."
SANDA recommends a Web connection
At the recommendation of Kevin Shank of SANDA Inc., a StrandVision representative based here, the Mooresville-South Iredell Chamber of Commerce implemented an innovative StrandVision Digital Signage software feature; they decided to extend the office signage to their Web site. Now, when members or visitors visit www.mooresvillenc.org, they see the same notices that are being shown in the office.
Explained Shank, "The Chamber continues with their standard Web site, but they now have a section that is dynamic and constantly changing with images and notices. The digital signage section content of the Chamber's Web site is updated every time the digital signage is changed in the office. It happens automatically with no separate steps in Web design or uploading."
The Chamber likes the Web feature, not only for the convenience, but also for the added exposure that it gives advertisers. "Companies that sponsor business after hours are featured on the TVs in our office and on our Web site," explained Shore. "It really expands their reach and helps us interest more sponsors."

About StrandVision
StrandVision LLC delivers low-cost, Web-based Software as a Service (SaaS) digital signage through a patent-pending approach that delivers content to subscribers' LCD and plasma displays, as well as computer screens and Web sites. StrandVision's service distributes text and graphics pages, including advertisements, video content, and national and local weather and news. It is ideal for medical and dental offices (patient education), banks, retailers and industrial distributors (video merchandising), employee break rooms (events and benefits), non-profit and religious organizations (member and supporter communications), and other applications.
StrandVision also offers PC-2-TV.net, a fully digital, high-definition (HD) personal computer-to-television adapter for use with digital signage and many other applications.
StrandVision Digital Signage services and PC-2-TV.net are available directly from StrandVision and through registered affiliates and system integrators (
http://www.strandvision.com/?digital_signage_installers
). Additional information about StrandVision is available at
http://www.strandvision.com
, by calling or emailing
sales at StrandVision.com
.
###
All trademarks are the property of their respective owners.
EDITORS: For further information:
Mike Strand
StrandVision Digital Signage
6595 South Shore Drive
Altoona, WI 54720-2386
715-235-SIGN (7446)
mjstrandweb at StrandVision.com