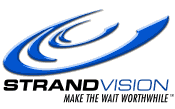 FOR IMMEDIATE RELEASE
MENOMONIE, Wis. - Feb. 24, 2011 - StrandVision LLC today introduced a new approach to contracts for multi-site company, franchise, association or chain customers that seek the volume cost and content sharing benefits of a master agreement while retaining the flexibility for every individual Profit & Loss (P&L) unit to select, manage and pay for their own StrandVision Digital Signage contracts.
Explaining the new agreement, Mike Strand, StrandVision founder and CEO, explained, "We sell to both small and large organizations, including hotels, restaurants, retail franchise operations, and even associations. This new system allows companies that want to experience the benefits of Internet-based digital signage while giving their individual operating managers regularly updated corporately produced content. This gives managers the opportunity to make their own content decisions and assign expenditures to their local budgets."
The master agreement program enables StrandVision customers to:
Negotiate master agreements at the corporate or association level that include discount pricing on basic and extended service packages, as well as special features, including customized services;
Immediately show regularly updated branding and business marketing content from the corporation or association's headquarters, such as corporate messages, public relations, employee benefits, common videos or advertising, to be carried on all of the individual StrandVision Digital Signage displays in the network;
Provide a password-protected, branded portal on the StrandVision site where local managers can sign up for and manage their StrandVision Digital Signage accounts under the master agreement;

Each P&L manager can contract directly with StrandVision while taking advantage of the volume buying power of the larger organization,
Each P&L manager can select contract length and options,
All discounts for basic services and options are automatically applied to the local operator/franchiser on the StrandVision portal,
Local P&L managers fully control the multi-site contract automatic renewal process. Local managers are not tied to a corporate renewal schedule;

Give each local P&L manager the flexibility to develop local digital signage pages and customize the StrandVision Digital Signage for each location or group of locations;
Provide additional training options for greater flexibility;
Ability to share content resources and ideas with other members of the StrandVision network;
Automatically merge locally developed and sourced digital signage content with the organization-wide digital signage messaging to build brand awareness or employee productivity.

About StrandVision
StrandVision LLC, based in Menomonie, Wisconsin delivers low-cost, Web-based Software as a Service (SaaS) digital signage through a patented approach that delivers any business marketing message to subscribers' LCD and plasma displays, as well as computer screens and websites. StrandVision's service distributes text and graphics pages, video content, famouns paintings, and national and local weather and news. It is ideal for medical and dental offices (patient education), banks, retailers and industrial distributors (video merchandising), education (student, staff and visitor information), employee break rooms (events and benefits), non-profit and religious organizations (member and supporter communications), and other applications.
StrandVision also offers PC-2-TV.net, a fully digital, high-definition (HD) personal computer-to-television adapter for use with digital signage and many other applications.
StrandVision Digital Signage services and PC-2-TV.net are available directly from StrandVision and through registered affiliates and system integrators (http://www.strandvision.com/installers.html). Additional information about StrandVision is available at http://www.strandvision.com, by calling or emailing sales at StrandVision.com.
###
All trademarks are the property of their respective owners.
EDITORS: For further information:
Mike Strand
StrandVision Digital Signage
6595 South Shore Drive
Altoona, WI 54720-2386
715-235-SIGN (7446)
mjstrandweb at StrandVision.com