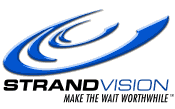 FOR IMMEDIATE RELEASE
MENOMONIE, Wis. - Dec. 3, 2013 – StrandVision Digital Signage today announced additional electronic sign background templates along with enhancements to the StrandVision service that allows subscribers to submit their own personalized backgrounds to create a consistent business marketing look across their digital signage network.
With the update, StrandVision now includes many standard background templates that are all automatically sized to the proper aspect ratio of standard TVs, wide screen flat panel displays and vertical orientations to fit the screen attached to the digital media player and its setup. Administrators can also change fonts, styles, colors and live clock viewing settings to fit their design needs.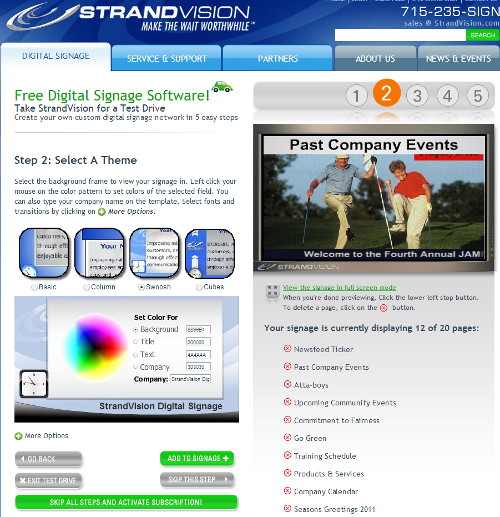 In addition, StrandVision now offers its customers the option of submitting their own custom background templates. For a nominal charge, StrandVision converts PowerPoint, graphic, desktop publishing or animated flash files that are designed internally or by their marketing agency to the format used by StrandVision. Once installed to their account, the additional templates become available to the customer through a simple dropdown menu. Customers can submit multiple background templates for different company divisions, different target audiences or to reinforce special events, holidays or important upcoming dates.
"These background template choices allow StrandVision customers to keep their signage content fresh while having the ability to customize the look and feel to their exact specifications," said Mike Strand StrandVision Founder and CEO. "It's another enhancement that adds to the simplicity, flexibility and usability of the StrandVision Digital Signage Network."
StrandVision's free digital signage test drive has also been enhanced to further customize the look of digital signage content. Anonymous visitors can quickly and easily create their own custom electronic signage. Interested visitors who want to convert their personalized digital signage content to the full system and install on their own digital media player can also create functional 30-day demos just by entering their email address and password as the last step.
About StrandVision
StrandVision LLC, based in Menomonie, Wis., delivers low-cost, Web-based digital signage software through a patented Software as a Service (SaaS) approach that delivers content to subscribers' LCD flat panel screens, as well as computer screens, websites and mobile devices. StrandVision's service distributes text and graphics pages, video content and national and local weather and news. It is ideal for many large and small business marketing applications, including medical and dental offices (patient education); banks, retailers and industrial distributors (video merchandising and operations information display systems); education (student communication, staff and visitor information); employee break rooms (employee communication of events and benefits); nonprofit and religious organizations (member and supporter communication).
StrandVision also offers
PC-2-TV.net
, a fully digital, high-definition (HD)
video extender
to connect a computer to a television over long distances for use with digital signage and many other applications. StrandVision Digital Signage services and PC-2-TV.net are available directly from StrandVision and through registered affiliates and
system integrators
. Additional information about StrandVision
Digital Signage
is available at
StrandVision.com
, by calling or emailing
sales at StrandVision.com
.
###
Names may be trademarks of their respective owners.
EDITORS: For further information:
Mike Strand
StrandVision Digital Signage
6595 South Shore Drive
Altoona, WI 54720-2386
715-235-SIGN (7446)
mjstrandweb at StrandVision.com