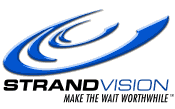 FOR IMMEDIATE RELEASE
JERSEY CITY, N.J. - April 13, 2009 - New Jersey City University (NJCU) has installed five large format TVs in the Michael B. Gilligan Student Union Building (GSUB) to display digital signage pages hosted by StrandVision LLC of Menomonie, Wis. The signage, completely controlled by the University, presents frequently updated pages that list University events and schedules for day and evening students, as well as faculty and staff.
The digital signage system is administered by the Student Affairs Department, which generates its own announcements and accepts notices from the University's 40 student organizations. The signage, a repeating set of pages, is delivered to five 42" or 52" flat screen TVs in the GSUB, as well as to an additional display in a classroom building.
NJCU joins other colleges and universities that use StrandVision's service that is delivered over the Internet and uses standard data or television cabling and off-the-shelf TVs and equipment. Displays in the GSUB augment traditional bulletin board notices with an attractive, kinetic presentation that draws in viewers to effectively reach the entire University population.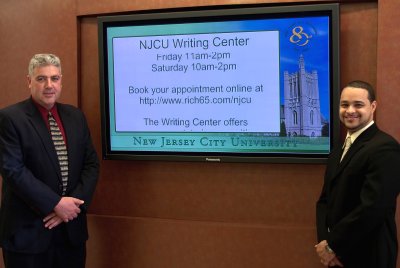 Explained Victor DelValle, assistant director, student affairs, "We wanted a new, cleaner form to match the newly renovated student union. Postings include class schedules and changes, student and meeting notices, special events and athletic schedules. We also accept notices from the Office of Public Information and the Office of Communications and Marketing for larger University and community events, and we can quickly post emergency notices for school closings and other news."
Student Affairs receives emailed flyers and notices in a digital format from student organizations and other sources. The staff logs onto the StrandVision server over the Internet to post the updates. The displays are refreshed within minutes.
Staff in the IT Department, which is responsible for technical support of the system, also appreciates both the low cost and remote hosting. "The Internet delivery approach and the use of off-the-shelf PCs, TVs and networking gear made the decision easy compared to the other vendors we considered. We didn't have to buy any special equipment and ongoing IT support is minimal -- StrandVision handles the rest," said Rob Scire, associate director, telecommunications and data networking.
About StrandVision
StrandVision LLC delivers low-cost, Web-based Software as a Service (SaaS) digital signage through a patent-pending approach that delivers content to subscribers' LCD and plasma displays, as well as computer screens and Web sites. StrandVision's service distributes text and graphics pages, including advertisements, video content, and national and local weather and news. It is ideal for medical and dental offices (patient education), libraries, banks, retailers and industrial distributors (video merchandising), employee break rooms (events and benefits), non-profit and religious organizations (member and supporter communications), and other applications.
StrandVision also offers PC-2-TV.net, a fully digital, high-definition (HD) personal computer-to-television adapter for use with digital signage and many other applications.
StrandVision Digital Signage services and PC-2-TV.net are available directly from StrandVision and through registered affiliates and system integrators (www.strandvision.com/digital_signage_installers.html). Additional information about StrandVision is available at www.strandvision.com, by calling or emailing sales at StrandVision.com.
###
All trademarks are the property of their respective owners.
EDITORS: For further information:
Mike Strand
StrandVision Digital Signage
6595 South Shore Drive
Altoona, WI 54720-2386
715-235-SIGN (7446)
mjstrandweb at StrandVision.com