StrandVision's PC-2-TV.net has been officially announced. Units are available immediately and they will be demoed in our booth (#N7058) at InfoComm. PC-2-TV.net is a fully digital, high-definition (HD) personal computer-to-television adapter for use with our digital signage and for many other applications. The HD package includes an adapter (PCA) at the personal computer that is paired with a receiving adapter (TVA) at the television monitor. The adapters digitally connect all common peripherals via a single CAT5 or CAT6 network cable, either directly or through standard networking appliances, such as gateways, routers and fiber optic networks.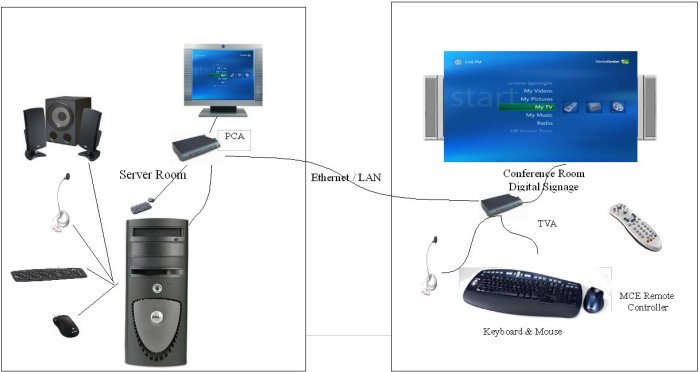 Simplifying digital signage installations
PC-2-TV.net simplifies wiring for corporate digital signage networks, enabling users to easily and inexpensively extend digital signage content to multiple displays -- normally using existing wiring. It works over corporate Local Area Networks or a dedicated network (recommended) for streaming digital signage video content. This type of set-up supports up to four different video streams on a 100MB network and a virtually unlimited number of TVA receivers displaying the video streams. PC-2-TV.net simultaneously displays the same video and audio content that is shown on the computer to the television monitor(s).
"We see PC-2-TV.net as a way for StrandVision installers and customers to quickly extend their digital signage networks using existing wiring while keeping to our philosophy of low cost, ease of use and reliability," said Mike Strand. "With PC-2-TV.net we are delivering a commercial-class adapter at consumer-class prices that provides reliable transmission of regular or HD audio and video for our digital signage customers."
Beyond digital signage
In addition to one-way HD video transmission, the adapters support two-way communications. The PC-2-TV.net transmits standard mouse and keyboard, as well as audio in and out ports providing full remote control of the host personal computer.
For instance, an administrator of a digital signage system could control the display from any TVA-equipped location to adjust the digital signage content or look. Television keyboard and mouse inputs can be disabled at the host PC to eliminate access and make the system more secure.
Added features include a built-in infrared (IR) receiver and an input for an attached IR sensor on the TVA that enables viewers to use appropriately equipped remote controls, such as the Microsoft Windows Media Center Edition (MCE) remotes, and pointing devices, to communicate with the host personal computer.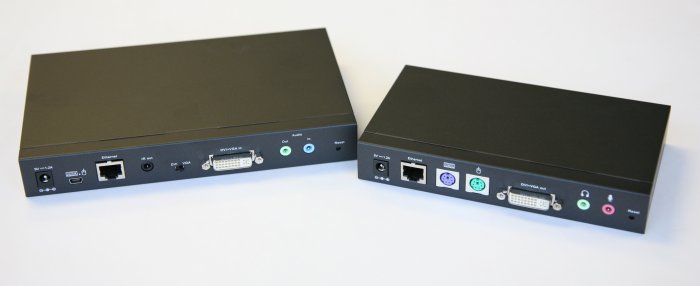 PC-2-TV.net, including both one (1) PCA and one (1) TVA unit, is available immediately for $249.99 plus S/H directly from StrandVision. Additional TVA units are available for $149.99 plus S/H. Contact Mike or Amy today at sales at StrandVision.com or for further information or visit http://www.pc-2-tv.net where we have a full description, FAQs and the User Guide.