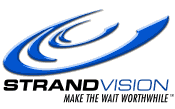 FOR IMMEDIATE RELEASE
MOLINE, Ill. - July 29, 2008 - Nortrax Inc., a John Deere distributor, has deployed a digital signage network from StrandVision LLC at 34 sites across North America. The digital signage displays, large-format flat-screen LCD or plasma monitors, are located at Nortrax dealer service and parts counters. They present a range of information from local weather and news, product profiles and promotions, to John Deere videos and advertisements.
The network began as a single-screen pilot a few years ago at a dealer in Eau Claire, Wis. Other locations across the U.S. and Canada signed on with StrandVision. Now, under a corporate agreement that covers all of the licenses, Nortrax has greater flexibility, more control, volume discounts and additional pages and video content that can be shared over the Internet to all 34 locations.
"What started as an experiment at one of our locations has developed into a major point-of-sale communications tool for us," said Clark Johnson, vice president, product support, Nortrax. "StrandVision worked closely with us to develop a system that gives us the ability to communicate a consistent message across North America, while empowering our locations to customize and control the presentation at the local level. We wanted a system that would grow and evolve with us and we found it in StrandVision."
Corporate Control/Local Flavor
Nortrax developed a corporate template for the digital signage pages for a consistent look and layout. It shares a number of fully-prepared content pages with dealers based on the region or type of store. In addition, local and regional administrators add their own specific content to individual or regional display networks.
Using StrandVision's Web-based dashboard, administrators simply log onto the password-protected server over the Internet and, based on their authorization levels, access their regional signage network. Nortrax corporate has authorization to update all screens on the network, while regional administrators have control of only their assigned local screens.
Nortrax also distributes videos, including commercials and product demonstrations, from the StrandVision servers. The videos (some with audio) are automatically stored locally on the dealers' digital signage systems to minimize network traffic. The videos are mixed in with the digital signage page lineup and automatically run as they come up in the rotation.
"Nortrax has a truly remarkable digital signage system," commented Mike Strand, StrandVision founder and CEO. "They are carrying consistent, powerful corporate and local messages to customers right at the point of sale. Using StrandVision's Internet-hosted system, the software investments were minimal and administration has been simplified."
The Nortrax network includes locations in Florida, Maine, Michigan, Minnesota, New Hampshire, New York, Ohio, Tennessee, Vermont and Wisconsin, as well as Ontario, Canada. More than 12 corporate and regional administrators manage the system. Additional users, including information technology/technical and administrative/accounts payable, also have appropriate administrative access.
About Nortrax
Nortrax Inc. is the largest John Deere dealership group in North America and extends across the eastern and central portions of the United States and Canada. Headquartered in Moline, Illinois, with Canadian operations headquartered in Mississauga, Ontario, Nortrax serves the construction, forestry and mining industries. As part of the John Deere family, Nortrax goes above and beyond to deliver the highest standard of products and service.
About StrandVision
StrandVision LLC delivers low-cost, Web-based hosted digital signage services through a patent-pending approach that delivers content directly to subscribers' LCD and plasma displays, as well as computer screens and Web sites. StrandVision's service distributes text messages and graphics, including advertisements, video content, and national and local weather and news. It is ideal for medical and dental offices (patient education), banks, retailers and industrial distributors (video merchandising), employee break rooms (events and benefits), non-profit and religious organizations (member and supporter communications), and other applications.
StrandVision also offers PC-2-TV.net, a fully digital, high-definition (HD) personal computer-to-television adapter for use with digital signage and many other applications.
StrandVision Digital Signage services and PC-2-TV.net are available directly from StrandVision and through registered affiliates and system integrators (www.strandvision.com/digital_signage_installers.html). Additional information about StrandVision is available at www.strandvision.com, by calling or emailing emailing sales at StrandVision.com.
###
All trademarks are the property of their respective owners. High resolution photo available.
EDITORS: For further information:
Mike Strand
StrandVision Digital Signage
6595 South Shore Drive
Altoona, WI 54720-2386
715-235-SIGN (7446)
mjstrandweb at StrandVision.com