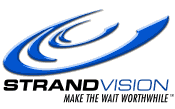 FOR IMMEDIATE RELEASE
MENOMONIE, Wis. - Feb. 18, 2010 - StrandVision LLC today introduced a hardware/software On-premise Distribution Server to complement its Software as a Service (SaaS) digital signage delivery model. The On-premise Server addresses specific security, bandwidth and network control criteria requested by some organizations.
The Linux based On-premise Server communicates with the StrandVision Digital Signage production servers in the Cloud and manages the internal distribution of signage pages to individual displays over the customer's Local Area Network (LAN) and/or Wide Area Network (WAN). It is typically managed by internal IT staff while day-to-day digital signage content management remains the same with non-technical administrators.
"StrandVision On-premise Servers address the technical needs of our clients while also delivering substantial cost benefits to installations of more than ten screens," said Mike Strand, StrandVision founder and CEO. "On-premise Servers reduce the number of displays that directly use our bandwidth so we pass these savings on."
The StrandVision On-premise Server minimizes the traffic that passes through proxy servers and firewalls. All of the feeds that are inside the firewall are automatically consolidated by the On-premise Server. In addition, since the On-premise Server is automatically updated and requires no special firewall configuration, it makes it easier for customers to integrate digital signage into WANs for corporate and university campuses.
The On-premise Server approach is especially useful for digital signage installations that include video. The tremendous bandwidth demands are greatly reduced, which takes pressure off of the organization's leased T1, T3 and other Internet connections while freeing up bandwidth for traffic from other applications, such as Voice over Internet Protocol (VoIP).
Available immediately to StrandVision subscribers, On-premise Server is priced at $1,799.99. The package includes a rack-mountable personal computer with pre-installed software and a one-year license to support ten digital signage displays. Additional screens are available through a tiered pricing structure. Annual renewals are priced at $999.99.
About StrandVision
StrandVision LLC delivers low-cost, Web-based Software as a Service (SaaS) digital signage through a patent-pending approach that delivers content to subscribers' LCD and plasma displays, as well as computer screens and Web sites. StrandVision's service distributes text and graphics pages, including advertisements, video content, and national and local weather and news. It is ideal for medical and dental offices (patient education), banks, retailers and industrial distributors (video merchandising), employee break rooms (events and benefits), non-profit and religious organizations (member and supporter communications), and other applications.
StrandVision also offers PC-2-TV.net, a fully digital, high-definition (HD) personal computer-to-television adapter for use with digital signage and many other applications.
StrandVision Digital Signage services and PC-2-TV.net are available directly from StrandVision and through registered affiliates and system integrators (
http://www.strandvision.com/?digital_signage_installers
). Additional information about StrandVision is available at
http://www.strandvision.com
, by calling or emailing
sales at StrandVision.com
.
###
All trademarks are the property of their respective owners.
EDITORS: For further information:
Mike Strand
StrandVision Digital Signage
6595 South Shore Drive
Altoona, WI 54720-2386
715-235-SIGN (7446)
mjstrandweb at StrandVision.com