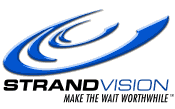 FOR IMMEDIATE RELEASE
EAU CLAIRE, WI (PRWEB) July 29, 2005 -- Online-Kiosks.net, an online digital signage company, has changed its name to StrandVision LLC and has moved its principal Internet address to www.strandvision.com. The name change is being made to more accurately reflect the company's refined mission and is in anticipation of increased business marketing to support both direct and channel sales.
"StrandVision is a digital signage company and that is better reflected in our new name," explained Mike Strand, founder and CEO. "StrandVision continues the brand equity that was built over ten years in the bar code industry with my last company, StrandWare. StrandVision is a unique hosted digital signage offering with low startup costs, and we needed the company name to clearly explain the concept to the market."
StrandVision is introducing a new approach to digital signage, which is used by businesses to communicate business marketing messages to customers and information for employees, through television screens or computer terminals in bank lobbies, reception rooms or other waiting areas. These systems are typically available only as standalone, onsite, server-based solutions that are costly to install and maintain.
StrandVision offers an Internet hosting service that eliminates backroom computer and support costs and complexities, delivers reliable, flexible content, and can be implemented in a fraction of the time required for traditional systems. Users can visit www.strandvision.com to select pre-defined templates, develop their own messaging including pictures, and add StrandVision-provided content, such as local weather, news and stock reports. StrandVision also offers design, configuration and networking customization services. Low subscription pricing makes StrandVision less expensive than most forms of advertising.
About StrandVision
StrandVision LLC is the latest venture of Mike Strand, founder and CEO, who previously founded StrandWare Inc., one of the leading providers of bar coding and data capture software. Strand is dedicated to finding innovative ways for businesses to solve everyday challenges. StrandVision fulfills this mission by providing low-cost, high-availability hosted digital signage services that can be implemented quickly and easily by a wide range of companies. Additional information about StrandVision is available at
www.strandvision.com
, or
mjstrandweb at StrandVision.com
.
###
All trademarks are the property of their respective owners.
EDITORS: For further information:
Mike Strand
StrandVision Digital Signage
6595 South Shore Drive
Altoona, WI 54720-2386
715-235-SIGN (7446)
mjstrandweb at StrandVision.com
More Information: http://www.prweb.com/releases/2005/7/prweb266029.htm