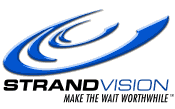 FOR IMMEDIATE RELEASE
EAU CLAIRE, Wis. – Nov. 11, 2004 – Online-Kiosks.net (www.online-kiosks.net), an Internet-based video messaging system for business marketing and employee communications, today announced an affiliate program for Web referrals. The affiliate program returns 20% of the paid subscriptions of visitors who link to the www.online-kiosks.net site from an affiliate and subscribe to the service. The link can be from an affiliate's Web site, e-mail or other business marketing message. The site referrals are automatically tracked and payments are made to the registered partners for the life of the subscription.
Online-Kiosks.net is an Internet-based information system that delivers subscribers' business marketing or informational messages directly to television or computer monitors in public areas. It is the waiting area equivalent of a telephone on hold marketing message and is ideal for banks or credit unions, health clubs, hotels, grocery and retail stores, medical waiting rooms, restaurants and service centers, as well as corporate lobbies and employee break rooms.
"Online-Kiosks.net is an emerging video messaging service that appeals to a wide range of companies for marketing to prospects and customers and motivating their employees," commented Mike Strand, Online-Kiosks.net founder and CEO. "In fact, the market potential is so broad that we can't hope to reach everyone on our own. That's why we think that this high-paying affiliate program will be valuable to us and profitable for our partners. It'll be like 'pennies from heaven' since they'll get paid with no additional effort for every month that the subscription stays in force."
Pays for subscriptions
The Online-Kiosks.net affiliate network is an official program that requires registration and approval in order to receive the Online-Kiosks.net logo and link, and to establish the secure commission payment account. Information and registration are available at http://www.online-kiosks.net/?add_affiliate.
Online-Kiosks.net subscriptions start at $69.95 per month on a monthly renewal basis and range up to over $650 for an annual subscription, so an affiliate's 20% referral commission could range up to $130 for each subscription. Additional customer options, including playback locations, kiosk pages and other subscription expansions, can result in additional residual income for affiliates.
Registered affiliates receive the 20% referral fee for paid subscriptions by subscribers who first link to www.online-kiosks.net from the referrer's site, e-mail or other business marketing campaigns that contain a special referrer link. The affiliate's referral code is displayed on the customer's order form for acceptance. The referred visitor must activate either a free trial or a paid subscription within one week of the initial visit. If that happens, the commission will be paid to the approved affiliate when the referred visitor pays for the subscription during or after the free trial period.
Once the referred visitor is linked to the affiliate site, the commission is paid for as long as the customer subscribes with the referral code. "We identify the affiliate relationship the first time the referred person visits. Even if a person who links from a referrer's site does not subscribe right away, we assign that customer to the referrer's account and then the affiliate automatically receives commission for referral purchases for the life of the account," explained Strand.
Affiliates can monitor their accounts through a private, password-protected administration area on the Online-Kiosks.net site. They can apply their accrued commissions either as credits for services from Online-Kiosks.net or, once the balance has reached $50, transfer their funds to a PayPal account or request a check. Commissions are paid on subscription fees and not for "Additional Products and Services" (consulting, hardware, installation). Terms and conditions are available at:
http://www.online-kiosks.net/affiliate_program_details.html.
Availability
Online-Kiosks.net is available immediately by visiting www.online-kiosks.net. In addition to direct sales over the Internet and the affiliate program, Online-Kiosks.net will also be working with Value Added Resellers who will custom design and support customer installations. Reseller program details will be announced at a later date.
About Online-Kiosks.net
Online-Kiosks.net, based in Eau Claire, Wis., is the latest venture of Mike Strand, founder and CEO, who previously founded StrandWare Inc., one of the leading providers of bar coding and data capture software. Online-Kiosks.net is dedicated to finding innovative ways for businesses to solve everyday challenges. Online-Kiosks.net fulfills this mission by providing low-cost, high-availability hosted video messaging services that can be implemented quickly and easily by a wide range of companies.
Additional information about Online-Kiosks.net is available at www.Online-Kiosks.net, or mjstrandweb at StrandVision.com.
###
All trademarks are the property of their respective owners.
EDITORS: For further information:
Mike Strand
StrandVision Digital Signage
6595 South Shore Drive
Altoona, WI 54720-2386
715-235-SIGN (7446)
mjstrandweb at StrandVision.com