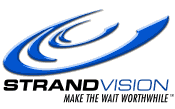 FOR IMMEDIATE RELEASE
MISSISSAUGA, Ontario - Aug. 23, 2007 - Ontrac Equipment Services Inc. "Ontrac," a major John Deere distributor across Eastern Canada, has selected StrandVision LLC, of Eau Claire, Wis., as the digital signage software and content provider for its parts department counters. Ontrac has installed pilot systems in Mississauga and London, Ontario.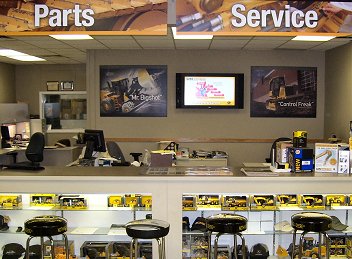 The digital signs are used to inform customers of Ontrac products, maintenance programs and services. They also carry local and national news and weather. The StrandVision signs, which are actually 42" LCD television monitors, display approximately 45 text and graphic slides and feature a number of John Deere informational videos. Located behind the parts counter, the displays play in the background as customers conduct their transactions and wait for their orders to be retrieved.
"We were looking for something that would give us an edge in our parts marketing and sales initiatives and enhance our image," commented Chris Holmes, Ontrac vice president - parts. "From an image point, the StrandVision digital sign is absolutely an effective way to communicate and advertise."
The StrandVision Digital Signage system is a hosted system that provides a steady stream of images and other content over the Internet. Each installation consists of a personal computer hooked up to the 42" LCD screen. An administrator simply logs onto StrandVision's Web-based console to add, remove and update slides and playback schedules. The slides can consist of text and uploaded images; other features, such as automatic localized news and weather, time and date counters, etc., are also included in the subscription service.
"Ontrac is making excellent use of our digital signage system," stated Mike Strand, StrandVision founder and CEO. "They have placed them in the perfect location -- at the point of sale -- and offer content that is relevant and interesting to their customers. Ontrac is an outstanding example of how to do digital signage right."
About Ontrac
Ontrac is a distributor for John Deere Construction & Forestry products with 22 full service locations across eastern Canada. The foundation of the Company is built upon offering customers a clear "value proposition" that supports customer uptime, productivity and low daily operating costs.
About StrandVision
StrandVision LLC of Eau Claire, Wis., previously Online-Kiosks, delivers low-cost, high-availability hosted digital signage services through a patent-pending, Internet-based approach that eliminates the need for complex and expensive onsite hardware. It delivers content directly to subscribers' televisions, including LCD and plasma displays, and computer screens. StrandVision's Web-based service makes it easy to set up, maintain and quickly distribute text messages and graphics, including advertisements, video content, and national and local weather and news. It is ideal for medical and dental offices (patient education), banks, retailers and industrial distributors (video merchandising), employee break rooms (events and benefits), non-profit and religious organizations (client and supporter communications), and other applications. StrandVision Digital Signage services are available directly from StrandVision and through registered affiliates and system integrators (www.strandvision.com/digital_signage_installers.html). Additional information about StrandVision and a free trial subscription are available at http://www.strandvision.com, by calling or emailing sales at StrandVision.com.
###
All trademarks are the property of their respective owners.
EDITORS: For further information:
Mike Strand
StrandVision Digital Signage
6595 South Shore Drive
Altoona, WI 54720-2386
715-235-SIGN (7446)
mjstrandweb at StrandVision.com
More information: http://www.prweb.com/releases/2007/4/