Once you have checked out the StrandVision Digital Signage system with your own free digital signage software account, you may be ready to purchase. StrandVision Digital Signage has an automated system so that you can activate, upgrade or renew your digital signage account yourself as described below. Icons will appear that fit your particular situation. For example, if you have already subscribed, you will not see an "Activate Subscription" icon. As always, you can also work with one of our sales associates by emailng sales at StrandVision.com or calling us at .
Log into your account and select the RENEW / ADD / ENHANCE SERVICES from the menu.
You will see some of these icons depending on your account. We are showing all of them for your reference.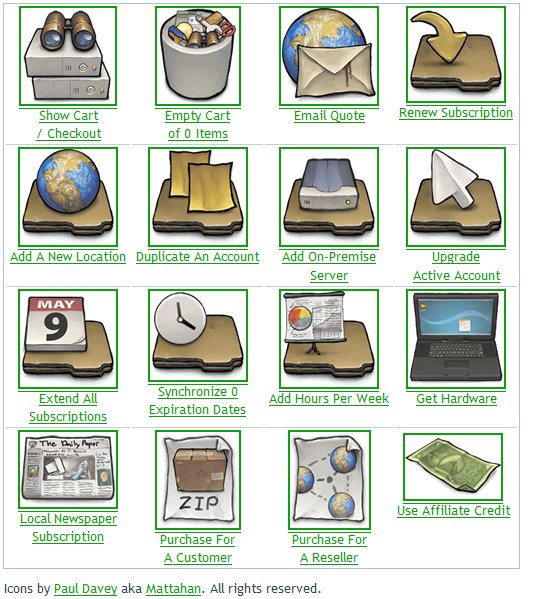 If your subscription is not active, select the

Activate Subscription Icon.
default is set to 1 year and the TV Playback Package
Change to the desired subscription time (if applicable)
Change to the desired package to subscribe to (if applicable)
Select Add Subscription to Cart
If it added successfully, you will see a message (example: TV Playback Subscription Added to Cart)

Select

SHOW CART to view what's been added and to ensure cost is correct
Select

EMPTY CART to clear all items in the cart
Select

EMAIL QUOTE to email the quote to someone else (or yourself)
Other items that may be of interest to purchase include:
Renew Subscriptions - Allows you to select which subscriptions to renew for which package and for what period.
Add a New Location - can have shared or unique pages.
Duplicate an Account - allows another computer to show the exact content of an account.
Add an On-Premise Server - Allows for cost savings and increased security by having your own StrandVision Digital Signage server on your site.
Get Hardware - Make your installation go faster and smoother with pre-tested and pre-installed digital signage hardware.
Upgrade an active subscription - Move to a higher package to provide additional capability. The costs are pro-rated to the end of your subscription.
Extend all active subscriptions - Allows you to extend the time for all subscriptions - especially handy if there is a sale going on.
Synchronize Expirations Dates - Sets all subscription ending dates to the latest one making all of them renew at once.
Add Hours Per Week - Allows for additional hours to be added in 5 hour increments. It automatically fills this in based on your business hours settings for each active account.
Purchase for a Customer - This is for our reseller or distributor partners to purchase for your own customer. You must be logged into your partner account and have the lead assigned to you to be able to purchase for someone.
Use Affiliate Credit - Lets you use your affiliate credit for qualified purchases (software) or both qualified and non-qualified (hardware). When the affiliate credit is used for non-qualified items, it is decreased by 50%. The system automatically applies as much as it can to qualified purchases.
When you are looking at the shopping cart and are done, click on CHECK OUT and follow the prompts.
The next step will be the PAYMENT SCREEN where you enter your credit card information.
complete the requested detail
ensure that if there is pre-filled detail - it is accurate (if not, update the information)
If your billing address has changed, please notify StrandVision so that we can update our internal records too.
After the payment information is entered, you will get a screen to confirm your order. Once you confirm it, the order is entered, subscriptions are activated, the credit card is charged if appropriate, and a reciept / invoice is emailed to the administrator and accounting people designated in your account. The receipt / invoice is also shown on the screen which you should print out.
If you have deferred payment terms with us, THIS IS YOUR INVOICE!! You should pay promptly from this electronic invoice unless you specifically ask us for something different at sales at StrandVision.com.

Non-Profit or Educational organizations must have their appropriate tax exempt or formal government documents faxed to or scanned and then emailed to StrandVision at sales at StrandVision.com prior to purchasing so that the appropriate discounts can be applied. Discounts are not available after the purchase process is completed.
Additional Information for Partners
If you are an active and approved StrandVision Digital Signage partner and can log into the partner area, here are some additional notes regarding customer purchases.
You must be signed into the partner area to purchase for others.
Select the Purchase for a Customer link.
Select the CUSTOMER from within your Customer dropdown menu
…if the customer is not listed there, a StrandVision Digital Signage sales representative must assign them to your account
...your customer must have a demo account created as this provides customer number
...Customers who sign up from your affiliate link are automatically assigned to your account when they create a free digital signage software account
Select PURCHASE button
…You will see a message at top of screen like this:Additional Purchases will be for customer name
Purchase the subscriptions and hardware for the customer
To purchase for another customer, select the purchase for a customer link again and repeat the process.
When you are complete with all customer orders, complete the purchase as described above.
DO NOT SEND A QUOTE TO CUSTOMERS FROM YOUR RESELLER ACCOUNT
…because your reseller discount is showing.
...log in to the end user's account to show normal pricing.
StrandVision Digital Signage offers amoney back return policy which you must also honor for the software.
RESELLER EXAMPLES:
Your cost for a 1st time, new location purchase that is not education/non-profit is:
$150 activation fee (never discounted if charged)
TV Package = $999.99 minus reseller discount = your cost
Your cost for a 1st time, new location purchase that is education/non-profit is:
$150 activation fee (never discounted if charged)
TV Package = $999.99 minus 15% non-profit/education = $849.99 minus your reseller discount = your cost
Affiliate Credit is offered to authorized partners that bring in their own customers. This credit is added to your account when the purchase process is complete and payment is received (See Additional Details).