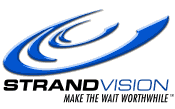 FOR IMMEDIATE RELEASE
MENOMONIE, Wis. – Feb. 18, 2014 – StrandVision Digital Signage today introduced a line of attractive, large-format, free-standing pedestal Light-Emitting Diode (LED) digital media player displays for customers looking for the simplest digital signage network installation. StrandVision also introduced standardized pricing for several new sizes of LG commercial-grade LED digital displays, as well as smaller pedestal and wall-mountable displays. Sourced from United Visual Products, Inc. of Milwaukee, the new display items are available directly from StrandVision and through authorized StrandVision resellers and system integrators.
StrandVision's new display options include:
Wall-mountable LG LED 1080p displays in 42", 47" and 55" configurations that feature two-year on-site warranty, speakers, Video Graphics Array (VGA) and High Definition Media Interface (HDMI) inputs, and Video Electronics Standards Association (VESA) compatible mounts;*
Floor Pedestal (kiosk) Screen LED displays in 1080p 46" and 55" vertical configurations with speakers and a two-year warranty. The units are pre-configured with the StrandVision Digital Signage R360 Linux Digital Media Player.
Smaller, 22", tabletop pedestal and wall-mountable wood-framed (cherry, oak and walnut) display options are also available.*
*Available with the pre-configured StrandVision Digital Signage R360 Linux Digital Media Player, which mounts behind the unit to facilitate electronic signage installation/startup and administration.
All of the units are designed to operate 24x7x365, are rated for 50,000 hours of continuous use and are optimized for bright commercial environments. They include tempered glass, alloy encasing, advanced cooling systems with integrated cooling fans, LED backlighting, Super-Patterned Vertical Alignment (S-PVA) technology and built-in speakers.
"We are excited to be offering these new commercial displays and pedestals," said Mike Strand, StrandVision founder and CEO. "They give our customers new ways to easily blend their digital signage into their buildings using extremely reliable commercial-grade equipment. We find that having a single source for all electronic signage equipment that is tested for compatibility is really attractive to customers since it simplifies and expedites installation of the digital signage network."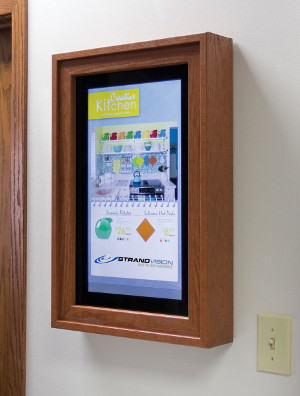 "Combining the StrandVision Digital Signage network with our display solutions makes for an all-in-one, easy-to-use turnkey solution," said Chad Bogan, Digital Signage Manager at United Visual Products. "We are pleased that StrandVision has decided to standardize on large-format and pedestal digital signage displays from United Visual Products."
The new electronic signage display options are available immediately from StrandVision and its reseller channel partners. Pricing is listed on StrandVision's website at https://www.strandvision.com./pricing.html.
About StrandVision
StrandVision LLC, based in Menomonie, Wis., delivers low-cost, Web-based digital signage software through a patented cloud-based approach that delivers content to subscribers' LCD flat panel screens, as well as computer screens, websites and mobile devices. StrandVision's service distributes text and graphics pages, video content and national and local weather and news. It is ideal for many large and small business marketing applications, including medical and dental offices (patient education); banks, retailers and industrial distributors (video merchandising and operations information display systems); education (student communication, staff and visitor information); employee break rooms (employee communication of events and benefits); nonprofit and religious organizations (member and supporter communication).
StrandVision also offers
PC-2-TV.net
, a fully digital, high-definition (HD)
video extender
to connect a computer to a television over long distances for use with digital signage and many other applications. StrandVision Digital Signage services and PC-2-TV.net are available directly from StrandVision and through registered affiliates and
system integrators
. Additional information about StrandVision
Digital Signage
is available at
StrandVision.com
, by calling or emailing
sales at StrandVision.com
.
###
Names may be trademarks of their respective owners.
EDITORS: For further information:
Mike Strand
StrandVision Digital Signage
6595 South Shore Drive
Altoona, WI 54720-2386
715-235-SIGN (7446)
mjstrandweb at StrandVision.com