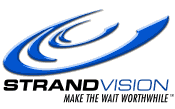 FOR IMMEDIATE RELEASE
TACOMA, Wash. - May 6, 2008 - The Port of Tacoma has introduced the Port News Network, an employee communications digital signage installation that relies on technology from StrandVision LLC of Eau Claire, Wisconsin.
New employee communications tool
The digital signage system distributes up-to-date information to the Port's 250 employees. Originally conceived as a way to keep staff informed about progress and development of the Port's Integrated Management System (IMS), an Information Technology department initiative, staff and management soon realized that the digital signage system could serve a number of communications needs.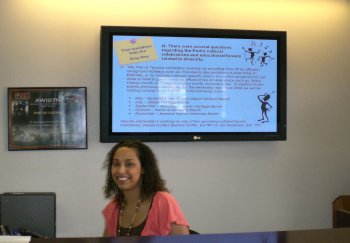 "We wanted to keep people informed about IMS schedules, but we soon realized that we could use it for other purposes," explained Diane Jordan, IMS communications specialist. "Now, any information that needs to be communicated Port-wide is handled over the digital signage network. This way the information is available to everybody at the same time. We don't have to go through the courier or the mail system, saving both paper and time. People are getting used to looking to the Port News Network for information."
Covered topics include notices about special events, Human Resources topics, retirement parties and commission meeting schedules. The StrandVision digital sign is also used to post the Port Vision, Mission and Goals, as well as motivational messages and answers to employee questions and suggestions.
The Port News Network, named through an employee contest, includes five 50" plasma monitors - two displays in the main administration building, one in the engineering project office, one in security and one in the maintenance break room - connected via the Port's wired and wireless networks.
"The Port of Tacoma is making excellent use of our digital signage system," commented Mike Strand, StrandVision founder and CEO. "The employees are spread out across several locations, yet, using StrandVision Digital Signage, management is able to reach them all at once with updates taking only seconds to do. Port staff are just beginning to discover the potential and we are looking forward to learning the new ways that they are utilizing the system."
About StrandVision
StrandVision LLC delivers low-cost, high-availability hosted digital signage services through a patent-pending, Internet-based approach that eliminates the need for complex and expensive onsite hardware. It delivers content directly to subscribers' televisions, including LCD and plasma displays, and computer screens. StrandVision's Web-based service makes it easy to set up, maintain and quickly distribute text messages and graphics, including advertisements, video content, and national and local weather and news. It is ideal for medical and dental offices (patient education), banks, realtors, retailers and industrial distributors (video merchandising), employee break rooms (events and benefits), non-profit and religious organizations (client and supporter communications), and other applications. StrandVision Digital Signage services are available directly from StrandVision and through registered affiliates and system integrators (http://www.strandvision.com/?digital_signage_installers). Additional information about StrandVision and a free trial subscription are available at http://www.strandvision.com, by calling or emailing sales at StrandVision.com.
###
All trademarks are the property of their respective owners.
EDITORS: For further information:
Mike Strand
StrandVision Digital Signage
6595 South Shore Drive
Altoona, WI 54720-2386
715-235-SIGN (7446)
mjstrandweb at StrandVision.com
More information: http://www.prweb.com/releases/2007/4/