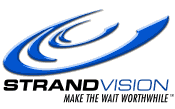 FOR IMMEDIATE RELEASE
PORTAGE, Mich. - Feb. 12, 2009 - Portage District Library has installed a digital signage system from StrandVision LLC of Menomonie, Wisconsin to keep patrons up to date on library news, events and special promotions. The two 42" flat screen displays are located at the entrance/service desk and in the youth department.
Originally conceived as a way to conveniently and accurately update the library's meeting room schedule listing, library staff immediately realized its potential. In addition to the community meeting board, the digital sign now serves a number of other business marketing, information and community outreach needs.
Explained Portage District Library Marketing Manager Chris Larson, "We use a number of communication programs, including flyers, a newsletter and a brochure, to promote library services and activities within the community. The digital sign enhances our efforts by tying them all together right at the entrance. It's also a great way to keep teens engaged."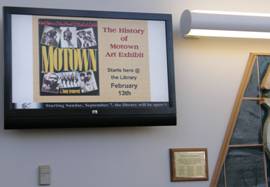 The daily meeting room schedule is updated once a week by an administrator who takes a few minutes to prepare the listings and then uploads them over the Internet to the StrandVision system. Each day's listing is scheduled to appear at the appropriate time and is automatically removed at the end of the day.
Business marketing, trivia, community notices and other announcements are also displayed at the library. All of the updates are designed in Microsoft PowerPoint and then converted to a graphics format for display. Since the service is delivered over the Internet, updates can be made from anywhere.
Flexible - Responsive
The library's notices are supplemented by frequently updated information provided by StrandVision including local weather and RSS (Really Simple Syndication) health news feeds; other information feeds are available. On one occasion, when the library was threatened by a tornado, patrons took shelter in the youth department. Library staff logged onto the StrandVision system and within minutes the digital sign displayed a Doppler radar page so everyone had the latest information - an unexpected benefit available through StrandVision's instant update capability.
The Right Solution
The library researched several options. Commented Portage District Library Technical Manager Laura Wright, "We looked at systems that were too costly and too complex. Then, we found StrandVision and it seemed to be a perfect fit for us. We pre-staged the content on the StrandVision server before the screens were installed. When we turned the system on, the digital signage started up instantly - no blank screens - no 'under construction' signs. It just works."
The digital signage is effective. Commented Larson, "We've had lots of compliments. We have about 7,000 people coming through the library every week. They're drawn to the digital display when they enter the library or checkout materials, so it's an effective way for us to let people know what's happening."
About StrandVision
StrandVision LLC delivers low-cost, Web-based hosted digital signage services through a patent-pending approach that delivers content directly to subscribers' LCD and plasma displays, as well as computer screens and Web sites. StrandVision's service distributes text messages and graphics, including advertisements, video content, and national and local weather and news. It is ideal for medical and dental offices (patient education), libraries, banks, retailers and industrial distributors (video merchandising), employee break rooms (events and benefits), non-profit and religious organizations (member and supporter communications), and other applications.
StrandVision also offers PC-2-TV.net, a fully digital, high-definition (HD) personal computer-to-television adapter for use with digital signage and many other applications.
trandVision Digital Signage services and PC-2-TV.net are available directly from StrandVision and through registered affiliates and system integrators (www.strandvision.com/digital_signage_installers.html). Additional information about StrandVision is available at www.strandvision.com, by calling or emailing sales at StrandVision.com.
###
All trademarks are the property of their respective owners.
EDITORS: For further information:
Mike Strand
StrandVision Digital Signage
6595 South Shore Drive
Altoona, WI 54720-2386
715-235-SIGN (7446)
mjstrandweb at StrandVision.com