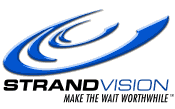 FOR IMMEDIATE RELEASE
EAU CLAIRE, Wis. - April 23, 2007 - StrandVision LLC, a provider of hosted digital signage services, today announced that it is offering a free online service that converts each slide in a Microsoft PowerPoint (PPT) presentation into a JPG-formatted graphic that is of higher quality than conversions that result from using standard desktop tools.
The service is designed to help StrandVision Digital Signage customers turn individual slides from their existing presentations into StrandVision digital sign screens. However, the free service is open to anyone. Visitors simply go to www.strandvision.com, fill in the free trial registration and navigate to the "Import/Conversion" selection.
"Our customers found that typical personal computer PPT conversion tools on the desktop do not deliver JPG files that are sufficiently sharp for the large LCD and plasma presentation monitors that they use with our digital signs. They asked for better graphics and we delivered," commented Mike Strand, StrandVision founder and CEO. "Then, we realized that this could be a resource for everyone. That's why we've extended the free service to the public."
The Import/Conversion utility enables users to navigate to the PowerPoint presentation on their computers, select the file (the StrandVision converter can convert a single slide or an entire presentation), and upload the presentation to the StrandVision server. Once the conversion is completed, StrandVision sends an email with a link to the converted images (ZIP files of JPG images). The files can then be downloaded to the local personal computer. StrandVision customers can then select and add the images to their digital signage presentations.
About StrandVision
StrandVision LLC, previously Online-Kiosks, delivers low-cost, high-availability hosted digital signage services through a patent-pending, Internet-based approach that eliminates the need for complex and expensive onsite hardware. It delivers content directly to subscribers' televisions, including LCD and plasma displays, and computer screens. StrandVision's Web-based service makes it easy to set up, maintain and quickly distribute text messages and graphics, including advertisements, video content, and national and local weather and news. It is ideal for medical and dental offices (patient education), banks, retailers and industrial distributors (video merchandising), employee break rooms (events and benefits), nonprofit and religious organizations (client and supporter communications), and other applications. StrandVision Digital Signage services are available directly from StrandVision and through registered affiliates and system integrators (www.strandvision.com/digital_signage_installers.html). Additional information about StrandVision and a free trial subscription are available at www.strandvision.com, by calling or emailing sales at StrandVision.com.
###
All trademarks are the property of their respective owners.
EDITORS: For further information:
Mike Strand
StrandVision Digital Signage
6595 South Shore Drive
Altoona, WI 54720-2386
715-235-SIGN (7446)
mjstrandweb at StrandVision.com
More information: http://www.prweb.com/releases/2007/