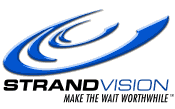 FOR IMMEDIATE RELEASE
Honolulu - Sept. 23, 2010 - StrandVision LLC today announced that the Ends of the Earth Global Prayer Towers (EOE Towers), has selected StrandVision Digital Signage as its web and digital signage technology partner to develop, enhance and service their new web based prayer wall. StrandVision Digital Signage customers also have the optional ability to view moderated prayer requests from their area on their own signage. Many of the EOE Tower locations will take advantage of this capability to communicate with their volunteers.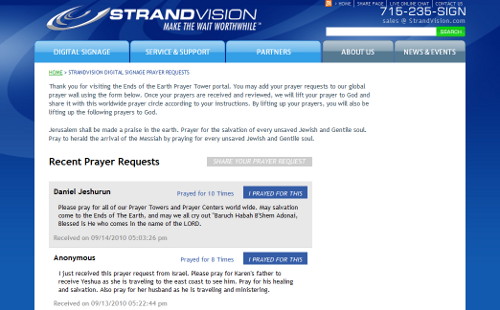 The new prayer wall hosted at Prayer.StrandVision.Com is a powerful solution using StrandVision Digital Signage's web server technology combined with the prayer efforts of Beth Israel JMI and their 12 global prayer towers, more than 72 prayer centers with thousands of prayer volunteers to moderate and pray for requests as they come in. This system makes it easy for every human being around the world with a web browser to have access to someone who will pray for them.
Each request is moderated and prayed for by EOE Tower volunteers. Once published, anyone viewing the site can lift up the prayer to God. Visitors adding a prayer request optionally get an email when someone prays for them and they can let the world know when they have an answered prayer. All prayer requests will eventually be directly or indirectly routed through the Jerusalem prayer tower.
"The Lord has blessed us all with this strategic partnership with StrandVision" said Rabbi Daniel Vargas, founder of the Ends of the Earth Global Prayer Towers. "The power that this new social network provides makes it possible to expand an already powerful worldwide prayer network to involve every person that has an Internet connection. We are proud to partner with StrandVision who today is in God's cutting edge of technology."
"I have always believed in helping people - even if it is one at a time and not always profitable," commented StrandVision Founder and CEO Mike Strand. "We are thrilled to be in on the ground floor of an initiative that could easily be the most powerful people-helping social network the world has ever seen."
As part of the development process for the prayer submission, moderation, tracking and notification, StrandVision also created the ability for StrandVision Digital Signage customers to display prayers from around the world or their local area on their digital signage screens. In addition to the prayer towers and prayer centers that will use this capability, it expands the prayer circle to public visitors of schools, malls, service centers and other businesses around the world.
If you are interested in becoming a prayer moderator volunteer for this new house of prayer, please visit http://Prayer.StrandVision.com/moderator_guidelines.html.
About Ends of the Earth Global Prayer Towers
The Ends of The Earth Global Prayer Tower is the fulfillment of Daniel's prophetic writings about the last days before Yeshua (Jesus) returns. Daniel 11:32, "The people who know God shall be strong ("shall do great exploits" or "shall be on the technological cutting edge"). It has been the vision of Rabbi Daniel that through the Ends of The Earth Global Prayer Towers, every man woman and child can be prayed for anywhere in the world. Today that is now possible through the latest technology of StrandVision Digital Signage.
About StrandVision
StrandVision LLC, based in Menomonie, Wisconsin delivers low-cost, Web-based Software as a Service (SaaS) digital signage through a patented approach that delivers any business marketing message to subscribers' LCD and plasma displays, as well as computer screens and websites. StrandVision's service distributes text and graphics pages, video content, and national and local weather and news. It is ideal for medical and dental offices (patient education), banks, retailers and industrial distributors (video merchandising), education (student, staff and visitor information), employee break rooms (events and benefits), non-profit and religious organizations (member and supporter communications), and other applications.
StrandVision also offers PC-2-TV.net, a fully digital, high-definition (HD) personal computer-to-television adapter for use with digital signage and many other applications.
StrandVision Digital Signage services and PC-2-TV.net are available directly from StrandVision and through registered affiliates and system integrators (www.strandvision.com/digital_signage_installers.html). Additional information about StrandVision is available at http://www.strandvision.com, by calling or emailing sales at StrandVision.com.
###
All trademarks are the property of their respective owners.
EDITORS: For further information:
Mike Strand
StrandVision Digital Signage
6595 South Shore Drive
Altoona, WI 54720-2386
715-235-SIGN (7446)
mjstrandweb at StrandVision.com