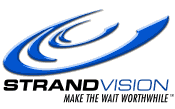 FOR IMMEDIATE RELEASE
THOMASVILLE, Ga. - March 3, 2008 - RE/MAX of Thomasville Inc. has installed a state-of-the-art digital signage system at its new headquarters office that highlights its real estate listings, features agents and business partners, and promotes community organizations and events. The digital signage system, provided by StrandVision LLC of Eau Claire, Wis., gives RE/MAX a powerful, flexible marketing tool.
A new way to show listings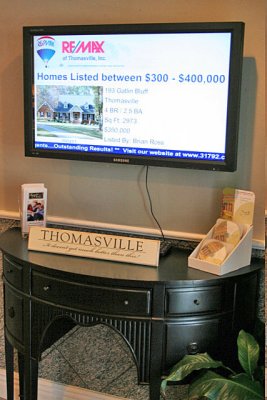 Real estate agencies generally display a limited number of listings in their lobbies using 3"X5" photos or listing sheets tacked to a cork board. After experimenting with other very expensive approaches, RE/MAX of Thomasville turned to StrandVision for its digital signage service, using a 42" LCD television screen to display the latest listings, local news and weather maps, featured agents, as well as announcements of local community groups and events. They are even selling advertising to local businesses to make the sign a revenue generator.
Explained Wendell Carr, RE/MAX of Thomasville marketing and training director in describing how the digital sign fits into the communications mix, "Not only are we selling houses, we're selling our city, our lifestyles, our community and what our community has to offer."
The service is hosted by StrandVision, with the content streamed directly to the RE/MAX display over the Internet. RE/MAX already had the required equipment, a personal computer and a television display, as well as a high-speed Internet connection.
Easy to administer
Real estate listings and other notices are easily updated by the receptionist who logs onto StrandVision's Web site to update the system. The listing information is typed into a table-formatted screen and the corresponding photos are uploaded. StrandVision automatically adds the text/photo listing to the page mix. The database randomly selects the listings, along with the ads, promotions, news and weather. Each price band ($100,000 to $150,000, $150,000 to $200,000, etc.) has its own database so RE/MAX can make sure that a variety of listings in various price ranges are being shown.
Additional graphical pages are developed in the Microsoft PowerPoint format and the StrandVision system converts the designs for use on the digital sign within minutes at no additional charge.
RE/MAX of Thomasville also runs the StrandVision digital sign feed as a window on its Web site (www.31792.com), greatly expanding the number of listings featured on its site and eliminating the need for the receptionist to update two separate marketing displays.
"I love the flexibility," commented Carr. "Just by maintaining the digital sign in the lobby, I'm able to expose more properties over our Web site, and support our business and the community. It sets us apart from any other real estate office. There's so much more information to focus on because the signage is constantly changing with listings and community notices, and even the local weather provided by StrandVision."
About StrandVision
StrandVision LLC delivers low-cost, high-availability hosted digital signage services through a patent-pending, Internet-based approach that eliminates the need for complex and expensive onsite hardware. It delivers content directly to subscribers' televisions, including LCD and plasma displays, and computer screens. StrandVision's Web-based service makes it easy to set up, maintain and quickly distribute text messages and graphics, including advertisements, video content, and national and local weather and news. It is ideal for medical and dental offices (patient education), banks, realtors, retailers and industrial distributors (video merchandising), employee break rooms (events and benefits), non-profit and religious
organizations (client and supporter communications), and other applications. StrandVision Digital Signage services are available directly from StrandVision and through registered affiliates and system integrators (
www.strandvision.com/digital_signage_installers.html
). Additional information about StrandVision and a free trial subscription are available at
www.strandvision.com
, by calling or emailing
sales at StrandVision.com
.
###
All trademarks are the property of their respective owners.
EDITORS: For further information:
Mike Strand
StrandVision Digital Signage
6595 South Shore Drive
Altoona, WI 54720-2386
715-235-SIGN (7446)
mjstrandweb at StrandVision.com
More information: http://www.prweb.com/releases/2007/4/