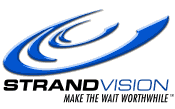 FOR IMMEDIATE RELEASE
EAU CLAIRE, Wis. - Oct. 17, 2006 - StrandVision LLC (www.strandvision.com), a provider of Internet-based digital signage services, is wrapping up a successful first year of full operations. The company completed its initial product development phase in 2005 and went to market in late 2005. The transition and market launch were marked by several milestones.
The company received financing and industry recognition:
June 2005 - StrandVision placed first in the information technology/e-commerce category and received $10,000 at the Wisconsin Governor's Business Plan Contest organized through the Wisconsin Technology Council.
October 2005 - StrandVision received another $10,000 by winning the Emerging Growth prize in the 2005 Create Your Own Business Competition presented by the Eau Claire Area Economic Development Corporation (EDC). Mike Strand was the first entrepreneur ever to win the award for two companies. (The first was for StrandWare.)
December 2005 - The Chippewa Valley Angel Investors Network LLC made a $250,000 equity investment in StrandVision LLC.
Several articles have also been written about StrandVision's innovative approach in delivering digital signage content over the Internet and the several technology enhancements that it has introduced.
StrandVision has also been successful in sales. Over the last year it has provided digital signage systems to local businesses, as well as other U.S. and Canadian organizations. A sampling includes:
Hope Gospel Mission of Eau Claire (visitor education)
The Bank of Ann Arbor, Mich. (in-branch merchandising)
Bircher Chiropractic & Wellness Clinic of Eau Claire (marketing communications)
Group Health Cooperative of Eau Claire (marketing communications)
Nortrax Midwest (marketing communications)
A major aeronautics repair refurbishment center (employee communications)
A Canadian high school (daily student notices)
The Cape Cod Chamber of Commerce (visitor information/member advertising)
A national auto parts company (employee communications)
"It's been an exciting year. The Chamber's Business Expo is a good time for us to look back on what we are adding to the local business community and to look forward to what we can build here, in Eau Claire," said Mike Strand, StrandVision founder and CEO. "We appreciate the support and recognition of the state of Wisconsin and the EDC, as well as the enthusiastic support and guidance of the Chippewa Valley Angel Investors Network. With their support we are building a business that will contribute to the economic well-being of the Chippewa Valley."
About StrandVision
StrandVision LLC, previously Online-Kiosks, delivers low-cost, high-availability hosted digital signage services through a patent-pending, Internet-based approach that eliminates the need for complex and expensive onsite hardware. It delivers content directly to subscribers' televisions, including LCD and plasma displays, and computer screens. StrandVision's Web-based service makes it easy to set up, maintain and quickly distribute text messages and graphics, including advertisements, video content, and national and local weather and news. It is ideal for medical and dental offices (patient education), banks, retailers and industrial distributors (video merchandising), employee break rooms (events and benefits), non-profit and religious organizations (client and fundor communications), and other applications. StrandVision Digital Signage services are available directly from StrandVision and through registered affiliates and system integrators (www.strandvision.com/digital_signage_installers.html). Additional information about StrandVision and a free trial subscription are available at www.strandvision.com, by calling or emailing sales at StrandVision.com.
###
All trademarks are the property of their respective owners.
EDITORS: For further information:
Mike Strand
StrandVision Digital Signage
6595 South Shore Drive
Altoona, WI 54720-2386
715-235-SIGN (7446)
mjstrandweb at StrandVision.com
More information: http://www.prweb.com/releases/2006/10/prweb451570.htm