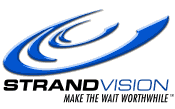 FOR IMMEDIATE RELEASE
MENOMONIE, Wis. - March 1, 2010 - Royal Credit Union, which has been growing significantly through its recent merger with REAL Financial Credit Union and the acquisition of AnchorBank branches and assets, continues to roll out StrandVision Digital Signage across its network to communicate with members in its branches and at drive-ups.
Digital signage enables RCU to leverage its marketing communications investments and bring targeted and timely promotions directly to members. It is using the StrandVision system at the ShopKo branch in Eau Claire, as well as offices in Menomonie and Colby, with plans to add five locations in the near future.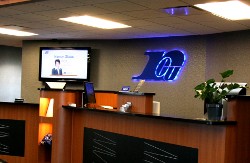 In addition to large flat-screen displays in the branches, the signage is integrated into RCU's drive-up teller systems to display member messages between transactions and when the teller is not being shown on the screen.
RCU runs its TV ads on the digital signage displays, as well as other marketing communications campaigns, community events, member programs and product promotions, local news and weather.
"This approach works well from both communications and cost standpoints. We're able to create materials for mass media and internal audiences at the same time," commented Vicki Hoehn, executive vice president, marketing. "StrandVision gives us the flexibility to communicate multiple messages to our members instantaneously without cluttering the branches with lots of signs. It makes the offices cleaner, crisper, classier."
"RCU is a longstanding StrandVision customer that piloted our first-generation system and made substantial contributions to the current product offering through their recommendations," said Mike Strand, StrandVision founder and CEO. "We're pleased to expand our network with them and to contribute to their marketing efforts."
About StrandVision
StrandVision LLC delivers low-cost, Web-based Software as a Service (SaaS) digital signage through a patent-pending approach that delivers content to subscribers' LCD and plasma displays, as well as computer screens and Web sites. StrandVision's service distributes text and graphics pages, including advertisements, video content, and national and local weather and news. It is ideal for medical and dental offices (patient education), banks, retailers and industrial distributors (video merchandising), employee break rooms (events and benefits), non-profit and religious organizations (member and supporter communications), and other applications.
StrandVision also offers PC-2-TV.net, a fully digital, high-definition (HD) personal computer-to-television adapter for use with digital signage and many other applications.
StrandVision Digital Signage services and PC-2-TV.net are available directly from StrandVision and through registered affiliates and system integrators (
http://www.strandvision.com/?digital_signage_installers
). Additional information about StrandVision is available at
http://www.strandvision.com
, by calling or emailing
sales at StrandVision.com
.
###
All trademarks are the property of their respective owners.
EDITORS: For further information:
Mike Strand
StrandVision Digital Signage
6595 South Shore Drive
Altoona, WI 54720-2386
715-235-SIGN (7446)
mjstrandweb at StrandVision.com