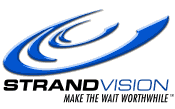 FOR IMMEDIATE RELEASE
MISHAWAKA, Ind. - March 6, 2007 - Searer Communications, a business communications supplier, has added digital signs from StrandVision LLC of Eau Claire, Wis. to its telephone, call center, networking, video surveillance and audio paging portfolio. Digital signs enable companies to display information, such as featured products and services, store hours, local news and weather, even print and television advertisements, over standard, LCD and plasma televisions at their businesses.
Explained Verne Searer, president and CEO, "As a full-service designer and installer, we get to know our customers' communications needs. Digital signs run on the same networks as our computers and many of our phones. This makes digital signage both practical and cost-effective. StrandVision's hosted approach that delivers information directly over the Internet to customers' networks, is a natural extension to our other communications offerings."
Searer Communications' first StrandVision Digital Signage sale was to Lochmandy Motor Sales of Elkhart, Ind. where the seven-screen signage system helps move customers from the service center into the showroom by providing corporate and sales information, along with local weather and news.
Digital signs for local businesses
Until recently, digital signs were too complex and costly for smaller businesses, but new technologies have reduced prices and have made them easier to install and operate. StrandVision takes an innovative approach by offering an Internet-based service that distributes real-time information to televisions, LCD or plasma screens over the organization's existing cable television or local area network.
Businesses can show customized text, graphics, and even video clips with or without audio, as well as background music, local news and weather, and other custom information. StrandVision digital signs can also be used in cafeterias and break or meeting rooms for employee communications, motivation and training, as well as benefits and events notices.
The day-to-day administration can be handled by anyone. Administrators simply log onto the password-protected server over the Internet from virtually anywhere to add the latest announcements or upload photos and graphics using StrandVision's fill-in-the-form entry system. The local digital signs that are tied to the account are automatically updated at the next refresh -- within minutes.
"StrandVision provides an innovative approach to digital signage, and part of that approach includes working with excellent companies like Searer Communications that know their customers and provide the highest level of service and support to ensure satisfaction," commented Mike Strand, StrandVision founder and CEO. "Our reputation in Indiana and Michigan will continue to grow, helped by the expertise that Verne and his staff bring to digital signage solutions. At the same time, we are giving Searer Communications a new revenue stream that complements its other telephony, audio, video and networking technologies."

About Searer Communications
Searer Communications, founded in 1973, is the largest Panasonic telephony dealer in northern Indiana and southwestern Michigan. It provides customized wireless, computer telephony integration (CTI) and Voice over Internet Protocol (VoIP) corporate phone and call center systems and service plans, as well as wired and wireless computer network, audio paging and video surveillance for over 1,000 customers in the Michiana region. Its certified technicians pride themselves on offering the latest in technologies, designing the correct systems for the applications and providing ongoing 24-hour service. For more information on Searer Communications, call 800-234-0001, email verne@searercom.com or visit http://www.searercom.com.
About StrandVision
StrandVision LLC of Eau Claire, Wisconsin, previously Online-Kiosks, delivers low-cost, high-availability hosted digital signage services through a patent-pending, Internet-based approach that eliminates the need for complex and expensive onsite hardware. It delivers real-time content directly to subscribers' televisions, including LCD and plasma displays, and computer screens. StrandVision's Web-based service makes it easy to set up, maintain and quickly distribute text messages and graphics, including advertisements, video content, and national and local weather and news. It is ideal for medical and dental offices (patient education), banks, retailers and industrial distributors (video merchandising), employee break rooms (events and benefits), non-profit and religious organizations (client and supporter communications), and other applications. StrandVision Digital Signage services are available directly from StrandVision and through registered affiliates and system integrators (www.strandvision.com/digital_signage_installers.html). Additional information about StrandVision and a free trial subscription are available at www.strandvision.com, by calling or emailing sales at StrandVision.com.
###
All trademarks are the property of their respective owners.
EDITORS: For further information:
More information: http://www.prweb.com/releases/2007/03/prweb509347.htm