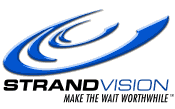 FOR IMMEDIATE RELEASE
MENOMONIE, Wis. – Nov. 15, 2012 – StrandVision Digital Signage today introduced a new facility that enables administrators of its digital signage software to add and automatically update social media information sources, such as Facebook and Twitter, to their digital signage networks. This capability can be a valuable add-on for employee communication initiatives supplementing employee motivation and recognition programs and to keep staff up to date on developing local news.
Employee recognition/motivation – In addition to general social media sources, such as Facebook and Twitter, StrandVision Digital Signage also works with employee communications-specific sites like GiveAWow.com and Achievers.com. These sites allow supervisors and even employees to post comments, recognize employee achievements and some even have points that can be redeemed for rewards. These postings are automatically gathered by StrandVision Digital Signage cloud servers and displayed on the designated digital media player serving employee areas, such as break rooms, cafeterias, hallways and entrances.
Employee information – Another popular application takes advantage of the trend of organizations posting information to social media sites to keep the public up to date on breaking news. StrandVision customers are using the links to post up-to-the-minute public transit notices, such as delays and cancellations, local weather advisories and other developing local news of interest to their employees. These types of feeds were widely used by New York and New Jersey digital signage subscribers during and after Hurricane Sandy. The digital signage social media news gathering mechanism can also be used to automatically post local community news.
"This is yet another innovative use that takes advantage of the flexibility and capabilities of StrandVision Digital Signage," commented Mike Strand, StrandVision founder and CEO. "Our strong offering in employee communication digital signage now extends to social media and best of all, once set up, administrators can just let it run. They can be confident that the latest employee recognition notices or commuter/community information is constantly available to employees."
In order to connect to the social media feeds, administrators simply link to the social media's content stream's RSS feed. The RSS link is copied and pasted into a digital signage template on the customer's cloud-based administrator portal on StrandVision's Content Management System (CMS). Once set up, the page is added to the digital signage content page rotation and StrandVision servers monitor the information source every 15 to 60 minutes and automatically update and display the information to the designated digital media players across the StrandVision Digital Signage network. The new social media feature is another free digital signage capability that is available immediately to StrandVision electronic signage subscribers by logging in to their CMS portal at StrandVision.com.
About StrandVision
StrandVision LLC, based in Menomonie, Wis., delivers low-cost, Web-based digital signage software through a patented Software as a Service (SaaS) approach that delivers content to subscribers' LCD flat panel screens, as well as computer screens, websites and mobile devices. StrandVision's service distributes text and graphics pages, video content and national and local weather and news. It is ideal for many large and small business marketing applications, including medical and dental offices (patient education); banks, retailers and industrial distributors (video merchandising); education (student communication, staff and visitor information); employee break rooms (employee communication of events and benefits); nonprofit and religious organizations (member and supporter communication).
StrandVision also offers
PC-2-TV.net
, a fully digital, high-definition (HD)
video extender
to connect a computer to a television over long distances for use with digital signage and many other applications. StrandVision Digital Signage services and PC-2-TV.net are available directly from StrandVision and through registered affiliates and
system integrators
. Additional information about StrandVision
Digital Signage
is available at
StrandVision.com
, by calling or emailing
sales at StrandVision.com
.
###
All trademarks are the property of their respective owners.
EDITORS: For further information:
Mike Strand
StrandVision Digital Signage
6595 South Shore Drive
Altoona, WI 54720-2386
715-235-SIGN (7446)
mjstrandweb at StrandVision.com