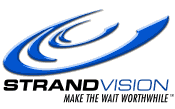 FOR IMMEDIATE RELEASE
AIKEN, S.C. - Jan. 29, 2007 - Southern Bank & Trust is debuting a new customer information service in its Aiken branch lobby. The Bank is presenting product information to customers in the teller area using a 42" plasma screen, which displays marketing and customer service information driven by a digital signage service from StrandVision LLC (www.strandvision.com).
The digital sign delivers an automated loop of savings, loan and business information text and graphics that is mixed with video clips of the Bank's television ads and background music.
Following the pilot, the Bank plans to extend the digital signage system to all Southern Bank & Trust locations and extend it to affiliated Georgia Bank & Trust branches. StrandVision can easily accommodate this growth since the digital signage content is directly delivered to each location from a central bank of servers via the Internet. Adding, changing or deleting information takes advantage of the same Internet network. Bank staff simply log onto the StrandVision site using a Web browser to manage a single site or multiple locations. The lobby displays are transparently refreshed within minutes.
Sonya Hanson, director of marketing, had experience with digital signs, so she knew what to look for. "We wanted a cost-effective, easy-to-manage system for all of our branches," commented Hanson. "It was obvious from the start that StrandVision would be responsive and helpful, and had the features that we need. They've helped us add background music and our commercials, which makes the lobby display much more entertaining and informative."
About StrandVision
StrandVision LLC of Eau Claire, Wisconsin, previously Online-Kiosks, delivers low-cost, high-availability hosted digital signage services through a patent-pending, Internet-based approach that eliminates the need for complex and expensive onsite hardware. It delivers content directly to subscribers' televisions, including LCD and plasma displays, and computer screens. StrandVision's Web-based service makes it easy to set up, maintain and quickly distribute text messages and graphics, including advertisements, video content, and national and local weather and news. It is ideal for medical and dental offices (patient education), banks, retailers and industrial distributors (video merchandising), employee break rooms (events and benefits), non-profit and religious organizations (client and supporter communications), and other applications. StrandVision Digital Signage services are available directly from StrandVision and through registered affiliates and system integrators (www.strandvision.com/digital_signage_installers.html). Additional information about StrandVision and a free trial subscription are available at www.strandvision.com, by calling or emailing sales at StrandVision.com.
###
All trademarks are the property of their respective owners.
EDITORS: For further information:
Mike Strand
StrandVision Digital Signage
6595 South Shore Drive
Altoona, WI 54720-2386
715-235-SIGN (7446)
mjstrandweb at StrandVision.com
More information: http://www.prweb.com/releases/2007/01/prweb500437.htm