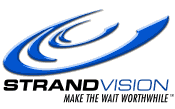 FOR IMMEDIATE RELEASE
MENOMONIE, Wis. - Sept. 10, 2013 – As part of its 10-year anniversary of providing easy-to-use digital signage to customers around the world, and as a way to thank its customers for their electronic signage network business, StrandVision has announced that it is offering no charge digital signage background music to its existing and new customers. This one-time offer enables subscribers that sign up on or before December 31, 2013 to add the background music feature permanently at no charge – for as long as they keep their digital signage network active.
The offer, a $750 value, provides StrandVision Digital Signage subscribers with unlimited access to almost 70 different audio programming channels with more than 650 licensed music clips ranging from classical to country, children, sports, contemporary, rock and many, many more.
New customers can order the background music feature simply by entering the Promotion Code "TenYear" as they activate their subscription. Existing customers can contact StrandVision or log into their administrator console on StrandVision's Content Management System (CMS) and input the code on the order processing screen to add the background music option. Once activated, the selected music channels will begin streaming to the digital media players on their StrandVision Digital Signage network within minutes.
"StrandVision's success over the last ten years has been built by consistently offering our customers increasing value and ease of use," said Mike Strand, StrandVision founder and CEO. "The electronic sign background music offer extends that value while thanking our existing and new customers for their digital signage business. This versatile background music option is theirs for the asking for the life of their subscription. No charges – no renewals – no hassle. All they have to do is sign up by December 31, 2013 to add digital signage background music content for as long as they subscribe to our electronic signage service."
The music option requires that subscribers have audio capabilities on their digital signage displays. There are no other technical requirements since StrandVision streams the audio directly from its cloud servers over the Internet directly to the subscriber's digital media player. The background music option is also extended to StrandVision's Free Digital Signage Test Drive.
About StrandVision
StrandVision LLC, based in Menomonie, Wis., delivers low-cost, Web-based digital signage software through a patented Software as a Service (SaaS) approach that delivers content to subscribers' LCD flat panel screens, as well as computer screens, websites and mobile devices. StrandVision's service distributes text and graphics pages, video content and national and local weather and news. It is ideal for many large and small business marketing applications, including medical and dental offices (patient education); banks, retailers and industrial distributors (video merchandising); education (student communication, staff and visitor information); employee break rooms (employee communication of events and benefits); nonprofit and religious organizations (member and supporter communication).
StrandVision also offers
PC-2-TV.net
, a fully digital, high-definition (HD)
video extender
to connect a computer to a television over long distances for use with digital signage and many other applications. StrandVision Digital Signage services and PC-2-TV.net are available directly from StrandVision and through registered affiliates and
system integrators
. Additional information about StrandVision
Digital Signage
is available at
StrandVision.com
, by calling or emailing
sales at StrandVision.com
.
###
All trademarks are the property of their respective owners.
EDITORS: For further information:
Mike Strand
StrandVision Digital Signage
6595 South Shore Drive
Altoona, WI 54720-2386
715-235-SIGN (7446)
mjstrandweb at StrandVision.com