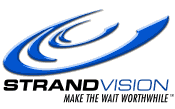 FOR IMMEDIATE RELEASE
MENOMONIE, Wis. - Sept. 26, 2013 - StrandVision LLC and Shuttle Computer Group, Inc. today announced a marketing agreement under which StrandVision will sell a new digital signage point-of-display digital media player. The device is based on Shuttle DS61 hardware that comes preloaded with, and is optimized to display, StrandVision's patented digital signage content software.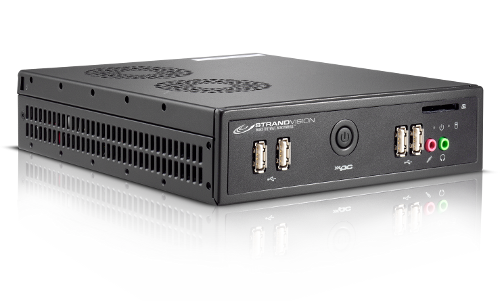 Branded the StrandVision R360 Digital Media Player, the new player is a slim (6.5" x 7.5" x 1.75"), powerful x86-based Linux digital signage platform that offers the best quality, performance and connectivity to process high-quality digital media. When coupled with StrandVision's Internet-based, hassle-free, digital signage software, it presents an unparalleled electronic signage package.
"At StrandVision our goal is to make digital signage setup and administration as quick and easy as possible and the R360 Media Player supports that goal," commented Mike Strand, StrandVision founder and CEO. "Customers simply plug the device into their display and connect it to the Internet. It automatically selects one of the StrandVision Digital Signage host servers from the cloud, logs in using a preloaded username and password, initializes the connection and begins transmitting the user's digital signage content in seconds. Remotely managed digital signage doesn't get any easier."
The R360 Digital Media Player works seamlessly with StrandVision's cloud digital signage servers and requires virtually no local administration. The fully configured player includes universal hardware to mount the unit directly onto a display or a wall mount, making installation quick and simple.
"Joining Shuttle's innovative hardware with StrandVision's software creates an easy-to-implement and manage package that will meet its customers' needs," said Marty Lash, director, sales and marketing, Shuttle Computer Group, Inc.
Complete Digital Signage Solution
The R360 Digital Media Player is remotely updated and managed by the StrandVision patented digital signage software minimizing end-user housekeeping. Each customer unit constantly receives digital signage content updates from the StrandVision Web portal yet can run independently if there is an Internet interruption. The StrandVision player is capable of self-correcting most issues and automatically sends system performance updates and alerts to StrandVision and digital signage system administrators.
In addition to a more powerful processor and increased storage and memory, the new StrandVision player includes several upgrades and features. Wi-FiВ® communication, previously a $79.99 option, is now included; a DVIв"ў video output has been added, along with the previously available HDMIВ® port for connection to digital displays; a VESAв"ў mounting kit, which can save up to $150.00 for specialized wall mounts.
Priced at $699.99 (a $180.00 reduction from previous StrandVision media players), the fully configured system, including StrandVision's patented digital signage display software, is available immediately directly from StrandVision and through authorized resellers and system integrators. An optional two-year warranty that extends the standard one-year warranty to a total of three years is available for $89.99.
About Shuttle Computer Group
Shuttle Computer is the North American subsidiary of Shuttle Inc., a publicly traded company established in 1983. Shuttle specializes in small form factor PC hardware for digital signage, point-of-sale (POS) and interactive kiosks in the retail, restaurant, food service and hospitality industries, as well as motherboards and bare bones systems. For more information, visit http://us.shuttle.com or call 1-888-972-1818.
About StrandVision
StrandVision LLC, based in Menomonie, Wis., delivers low-cost, Web-based digital signage software through a patented Software as a Service (SaaS) approach that delivers content to subscribers' LCD flat panel screens, as well as computer screens, websites and mobile devices. StrandVision's service distributes text and graphics pages, video content and national and local weather and news. It is ideal for many large and small business marketing applications, including medical and dental offices (patient education); banks, retailers and industrial distributors (video merchandising); education (student communication, staff and visitor information); employee break rooms (employee communication of events and benefits); nonprofit and religious organizations (member and supporter communication).
StrandVision also offers
PC-2-TV.net
, a fully digital, high-definition (HD)
video extender
to connect a computer to a television over long distances for use with digital signage and many other applications. StrandVision Digital Signage services and PC-2-TV.net are available directly from StrandVision and through registered affiliates and
system integrators
. Additional information about StrandVision
Digital Signage
is available at
StrandVision.com
, by calling or emailing
sales at StrandVision.com
.
###
Wi-Fi is a registered trademark of the Wi-Fi Alliance. DVI is a trademark or registered trademark of SONIVOX, L.P. HDMI is a trademark of HDMI Licensing. VESA is a trademark of the Video Electronics Standards Association. Other names may be trademarks of their respective owners.
EDITORS: For further information:
Mike Strand
StrandVision Digital Signage
6595 South Shore Drive
Altoona, WI 54720-2386
715-235-SIGN (7446)
mjstrandweb at StrandVision.com