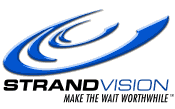 FOR IMMEDIATE RELEASE
MENOMONIE, Wis. - June 5, 2013 - StrandVision Digital Signage has enhanced its Web-based Digital Signage Content Management System (CMS) portal to include three skill levels for electronic signage content administration. The three-tiered approach presents administrators with tailored selections to help them quickly and easily design, post and distribute digital signage pages. Offered as a free digital signage upgrade for all StrandVision subscribers, the enhanced user interface is available immediately.
"The StrandVision electronic signage system is designed to be simple and very flexible," said Mike Strand, StrandVision founder and CEO. "New users are automatically registered at the Beginner user level and after their free digital signage training most quickly move to Intermediate. Those who want to have the greatest level of digital signage content design control simply select the Advanced level on the administrator portal and they are presented with all of the design options for the particular page type."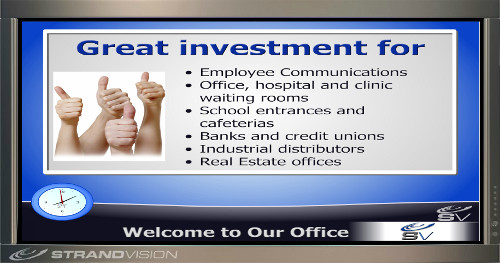 StrandVision's enhanced user interface controls the design options that users see when they work with their StrandVision Digital Signage pages. Beginners see a less extensive set of choices, which makes page administration simpler; Advanced users have more choices and more control. The system allows Beginner users to modify pages created by an advanced user without disrupting higher-level settings. This also allows the user to temporarily access Advanced digital signage content features without having to stay at the more feature-rich level.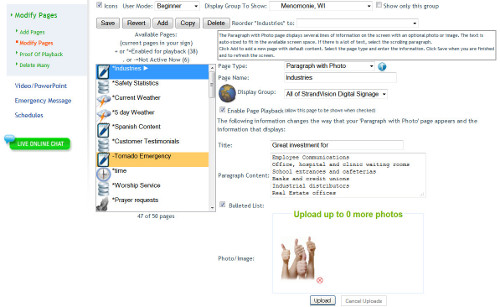 For instance, for the "Paragraph with Photo" template page, Beginners are offered a selection of fields for entering a title, paragraph content and photo. Intermediate users can also add a subtitle and direct the system to use the full digital media player screen, while Advanced users can play with color options, photo position, add Quick Response (QR) code fields and adjust text alignment, fonts and effects.
For detailed descriptions of the user-level options for each StrandVision Digital Signage content page type template visit http://www.strandvision.com/listkiosk.html. Current StrandVision Digital Signage subscribers may select their user level by logging into their account and clicking the "User Mode" option in the "Modify Pages" section.
About StrandVision
StrandVision LLC, based in Menomonie, Wis., delivers low-cost, Web-based digital signage software through a patented Software as a Service (SaaS) approach that delivers content to subscribers' LCD flat panel screens, as well as computer screens, websites and mobile devices. StrandVision's service distributes text and graphics pages, video content and national and local weather and news. It is ideal for many large and small business marketing applications, including medical and dental offices (patient education); banks, retailers and industrial distributors (video merchandising); education (student communication, staff and visitor information); employee break rooms (employee communication of events and benefits); nonprofit and religious organizations (member and supporter communication).
StrandVision also offers
PC-2-TV.net
, a fully digital, high-definition (HD)
video extender
to connect a computer to a television over long distances for use with digital signage and many other applications. StrandVision Digital Signage services and PC-2-TV.net are available directly from StrandVision and through registered affiliates and
system integrators
. Additional information about StrandVision
Digital Signage
is available at
StrandVision.com
, by calling or emailing
sales at StrandVision.com
.
###
All trademarks are the property of their respective owners.
EDITORS: For further information:
Mike Strand
StrandVision Digital Signage
6595 South Shore Drive
Altoona, WI 54720-2386
715-235-SIGN (7446)
mjstrandweb at StrandVision.com