FOR IMMEDIATE RELEASE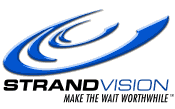 EAU CLAIRE, Wis. & SILVERDALE, Wash. – Sept. 26, 2005 – StrandVision LLC (www.strandvision.com), an online digital signage company, and Pacific Signage (www.pacificsignage.com), a digital signage hardware supplier, today announced that they have finalized a joint marketing agreement.
Under the agreement, StrandVision resellers and customers will be provided with a custom login to the Pacific Signage online catalog where they will receive information that will help them specify, design and implement digital signage installations. In addition, they will receive special project pricing for hardware products that they purchase from Pacific Signage.
"We are very excited about the partnership between StrandVision and Pacific Signage," said Lisa Jachimowicz, Pacific Signage founder and CEO. "We believe this will help bridge the gap for information and services that is sometimes lacking to get projects completed. This unique partnership will allow resellers and potential end-users to get up and running more quickly and cost effectively than with traditional avenues of digital signage deployment."
StrandVision -- A new approach to digital signage
StrandVision is introducing a new approach to digital signage installations, which are typically available only as standalone, onsite, server-based solutions that are costly to install and maintain. StrandVision offers an Internet hosting service that eliminates backroom computer and support costs and complexities. It delivers reliable, flexible content, and can be implemented in a fraction of the time and cost required for traditional systems while providing customers flexibility to update their information anytime from anywhere. Resellers and customers can use StrandVision's hosted content service, along with Pacific Signage hardware, to quickly and cost-effectively deploy digital signs.
"StrandVision is all about changing the dynamics of digital signage by reducing complexity and opening the market to new customer categories such as doctors' offices, smaller banks and credit unions, franchises and more," commented Mike Strand, StrandVision founder and CEO. "We think there is an even larger potential market opportunity with our efforts to make digital signage easy, inexpensive and flexible. This partnership with Pacific Signage is another step in creating this model. By giving our reseller partners and customers a one-stop source, they can easily specify, order and install state-of-the-art systems in record time."
About Pacific Signage
Pacific Signage is owned by the Digital Signage Forum, (www.digitalsignageforum.com) and is the latest venture of Lisa Jachimowicz, founder and CEO, and one of the leading sources of digital signage information. Pacific Signage was created out of a need to assist forum members obtain digital signage hardware for digital signage projects both large and small. Pacific Signage is located in the Pacific Northwest just outside of Seattle, Washington and is comprised of a small group of professionals with expertise in the digital signage industry. Offering touch screens, video cards, tuners, scalers, control systems, plasma displays and LCD monitors, Pacific Signage offers companies a cost-effective way to obtain products needed to effectively roll out projects without the hassle of complex reseller agreements. Customers can get what they want, when they need it. Additional information is available at http://www.pacificsignage.com or 360.698.7069 or lisa @ pacificsignage.com.

About StrandVision
StrandVision LLC, also operating as Online-Kiosks.net (www.online-kiosks.net), is the latest venture of Mike Strand, founder and CEO, who previously founded StrandWare Inc., one of the leading providers of bar coding and data capture software. Strand is dedicated to finding innovative ways for businesses to solve everyday challenges. StrandVision fulfills this mission by providing customer and employee communications via low-cost, high-availability hosted digital signage services that can be implemented quickly and easily by a wide range of companies. Additional information about StrandVision is available at www.strandvision.com, or sales at StrandVision.com. Resellers can register with StrandVision at: http://www.strandvision.com/add_reseller.html.
###
All trademarks are the property of their respective owners.
EDITORS: For further information:
Mike Strand
StrandVision Digital Signage
6595 South Shore Drive
Altoona, WI 54720-2386
715-235-SIGN (7446)
mjstrandweb at StrandVision.com
Lisa Jachimowicz
Pacific Signage
1405 Santa Fe La.
Silverdale, WA 98383
360-698-7069
lisa @ pacificsignage.com
More information: http://www.prweb.com/releases/2005/9/prweb288495.htm