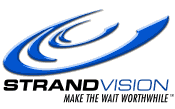 FOR IMMEDIATE RELEASE
EAU CLAIRE, Wis. (PRWEB) Aug. 22, 2005 -- StrandVision LLC (http://www.strandvision.com), formerly Online-Kiosks.net (www.online-kiosks.net), an online digital signage company, today announced a channel program that enables resellers and systems integrators to sell StrandVision Digital Signage products and subscription services to their customers without major investments in technology or training.
By partnering with StrandVision, resellers will be able to offer hosted digital signage solutions to their customers using standard display and networking technologies. StrandVision resellers can concentrate on the hardware, networking, design and installation services that are core to their businesses while StrandVision delivers the digital signage service over the Internet.
StrandVision will appeal to general business technology suppliers who are looking for a new product line that they can offer to their existing customer base. It will also be attractive to digital signage providers who are looking for low cost alternatives to onsite installations and to kiosk vendors when they require one-way digital signage for specific applications.
Mike Strand, StrandVision founder and CEO, who has extensive experience with supporting channel programs in the software and bar code markets, said, "This is an untapped, new market for many resellers. We are offering them an easy way to expand their portfolio using their current integration expertise without having to learn the intricacies of digital signage. Resellers and systems integrators can make additional hardware, installation and support sales while StrandVision delivers the online service. Even better, we track the renewals so that the resellers get paid for every month that the StrandVision subscription stays active."
StrandVision pays 20% of the subscription fee each month to its reseller partners for referred business. Commissions of up to 50% are available to resellers who provide installation, systems integration and signage design services.
StrandVision - Hosted Digital Signage
The StrandVision Digital Signage service is hosted on secure servers managed by Strand. Resellers or their customers simply fill in templates, add graphics and select other StrandVision-provided content, such as local weather, news and other Internet information.
StrandVision delivers fully-formatted, dynamic digital signage content over the Internet to televisions or computer displays in customers' lobbies, waiting and break rooms, service centers and other areas. It is offered on a subscription basis and can cover several of a customer's locations with a master account to modify all locations. Resellers can add value by selling related network, hardware and design services.
"We are seeing a lot of interest - especially in the banking, healthcare and retail sectors, where our motto 'Make the wait worthwhile™' really resonates with potential customers," commented Strand.
StrandVision is developing cooperative marketing programs, including Web and direct mail support, and specific vertical market sales and marketing materials. StrandVision will also directly assist resellers during the sales process to familiarize them with the digital signage market. The company is also creating alliances with hardware manufacturers to provide easy integration with a variety of hardware devices.
Resellers can sign up as a StrandVision reseller at: http://www.strandvision.com?add_reseller. Additional information, such as recommended markets (http://www.strandvision.com?standard) and retail pricing (.?pricing) are also available at the http://www.strandvision.com site.

About StrandVision
StrandVision LLC is the latest venture of Mike Strand, founder and CEO, who previously founded StrandWare Inc., one of the leading providers of bar coding and data capture software. Strand is dedicated to finding innovative ways for businesses to solve everyday challenges. StrandVision fulfills this mission by providing customer and employee communications via low-cost, high-availability hosted digital signage services that can be implemented quickly and easily by a wide range of companies. Additional information about StrandVision is available at
www.StrandVision.com
, or
sales at StrandVision.com
.
###
All trademarks are the property of their respective owners.
EDITORS: For further information:
Mike Strand
StrandVision Digital Signage
6595 South Shore Drive
Altoona, WI 54720-2386
715-235-SIGN (7446)
mjstrandweb at StrandVision.com