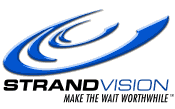 FOR IMMEDIATE RELEASE
MENOMONIE, Wis. – July 10, 2012 – StrandVision Digital Signage today announced that it has served more than 5,000,000,000 pages of digital signage content to its customers. The milestone, which was reached on July 5 at 8:33:42 a.m. central time, is the result of an ever-increasing customer base, multiple digital signage feeds across customer sites around the world and an accelerating number of pages and information that its customers are streaming to their respective customers, visitors and employees over their digital signage networks. The signage messages are being displayed via physical digital signage players and displays, employee browser home pages and virtual screens on internal and external Web sites.
"StrandVision Digital Signage continues to grow in importance as a business marketing communications tool for our customers," commented Mike Strand StrandVision founder and CEO. "Our flexible, cloud-based subscription service allows our customers to create customized digital signage networks that range from a single screen to multi-facility corporate-wide and even international deployments of hundreds of digital signage players. We find that our customers often start with basic systems and then dramatically expand them as they realize the potential. The success is evident in the numbers."
StrandVision's offerings range from free digital signage software to multi-display and multi-location installations that include seamlessly integrated corporate-wide and localized content that is easily configured and scheduled for one or many screens by authorized administrators. The digital signage administrators simply log into StrandVision's Content Management System (CMS) on StrandVision servers in the cloud and their information is automatically distributed and merged into the digital signage networks to which they have access.
A Communications Tool for any Organization
StrandVision Digital Signage installations are deployed in a wide range of industries for both marketing and employee communications. Industries include:
Academic/Education

Banking & Finance

Corporate Communications

Entertainment

Fitness & Recreation

Government/Community

Healthcare/Medical

Hotel & Hospitality

House of Worship

Industrial Distributors

Real Estate

Retail

Transportation

Outdoorsignage
Service Packages
StrandVision service offerings range from Free Digital Signage packages that include 50 hours per week and up to 20 pages of content for a month to Basic packages that are inexpensive, yet full-featured, to robust packages that include video streaming, sophisticated database and animated PowerPoint capabilities. For more information visit: http://www.strandvision.com/packages.html.
About StrandVision
StrandVision LLC, based in Menomonie, Wisconsin, delivers low-cost, Web-based digital signage software through a patented Software as a Service (SaaS) approach that delivers content to subscribers' LCD flat panel screens, as well as computer screens and websites. StrandVision's service distributes text and graphics pages, video content and national and local weather and news. It is ideal for many large and small business marketing applications, including medical and dental offices (patient education); banks, retailers and industrial distributors (video merchandising); education (student communication, staff and visitor information); employee break rooms (employee communication of events and benefits); nonprofit and religious organizations (member and supporter communication).
StrandVision also offers PC-2-TV.net, a fully digital, high-definition (HD) video extender to connect a computer to a television over long distances for use with digital signage and many other applications. StrandVision Digital Signage services and PC-2-TV.net are available directly from StrandVision and through registered affiliates and system integrators. Additional information about StrandVision Digital Signage is available at StrandVision.com, by calling or emailing sales at StrandVision.com.
###
All trademarks are the property of their respective owners.
EDITORS: For further information:
Mike Strand
StrandVision Digital Signage
6595 South Shore Drive
Altoona, WI 54720-2386
715-235-SIGN (7446)
mjstrandweb at StrandVision.com