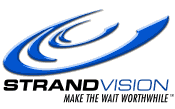 FOR IMMEDIATE RELEASE
EAU CLAIRE, Wis., Oct. 7, 2005 -- StrandVision LLC (www.strandvision.com) has been awarded the Emerging Growth prize in the 2005 Create Your Own Business Competition, presented by the Eau Claire Area Economic Development Corporation (EDC), for its online digital signage business concept and plan.
The $10,000 award recognizes the strength of founder and CEO Mike Strand's vision and StrandVision's market potential. StrandVision is Strand's second major business venture. He was one of the early recipients of the Business Plan Competition when he received the award in 1989 for StrandWare Inc., which he subsequently built into a leadership position in the bar code software industry and ultimately sold to Brady Corporation of Milwaukee.
"We are pleased with the 2005 Competition," commented Brian Doudna, Eau Claire Area Economic Development Corporation executive director. "We received many strong plans. Mike's digital signage product garnered the award due to its innovative use of technology, strong business plan and Mike's track record of success. We look forward to watching the development of another Eau Claire business and are pleased that we are able to facilitate its growth."
Strand will be honored tonight as part of an "Advancing Entrepreneurship" event being held in conjunction with the UW-Eau Claire Entrepreneurship Program. The official award presentation will take place tomorrow at 11:30 AM at a luncheon being held at the Ramada Inn located in downtown Eau Claire. In addition to the cash award, StrandVision will also receive in-kind products and services from area companies and associations.
"It's great to get support from the Eau Claire Area EDC," said Strand. "Its investment in 1989 was a major milestone in StrandWare's development. This time, we're planning to build a worldwide digital signage business right here in Chippewa Valley. It's terrific to be able to grow another high-tech company in Eau Claire where I live with my family. We are looking forward to working with the many local businesses that can use our products and services. We didn't have that opportunity much with StrandWare."
In June, Mike Strand was awarded first place in the information technology/e-commerce category of the Wisconsin Governor's Business Plan Contest organized through the Wisconsin Technology Council.
About StrandVision
StrandVision LLC, also operating as Online-Kiosks.net (www.online-kiosks.net), is the latest venture of Mike Strand, founder and CEO, who previously founded StrandWare Inc., one of the leading providers of bar coding and data capture software. Strand is dedicated to finding innovative ways for businesses to solve everyday challenges. StrandVision fulfills this mission by providing a new customer and employee communications medium via low-cost, high-availability hosted digital signage services that can be implemented quickly and easily by a wide range of companies. Additional information about StrandVision is available at www.strandvision.com, or mjstrandweb at StrandVision.com.
###
All trademarks are the property of their respective owners.
EDITORS: For further information:
Mike Strand
StrandVision Digital Signage
6595 South Shore Drive
Altoona, WI 54720-2386
715-235-SIGN (7446)
mjstrandweb at StrandVision.com
More Information: http://www.emediawire.com/releases/2005/10/emw293985.htm