Jul 1, 2006 12:00 PM
By Jeff Sauer - Sound and Video Contractor
Digital signage service finds niche with small-scale installations.
Digital signage has clearly become one of the hottest topics in the AV industry, and rightly so. There are major growth opportunities in selling the displays and hardware, but also in leveraging an AV contractor's expertise building out infrastructures to move and present media. Still, there are also costs and caveats to digital signage that, at least for now, are holding many clients back from entering the burgeoning business that everyone predicts.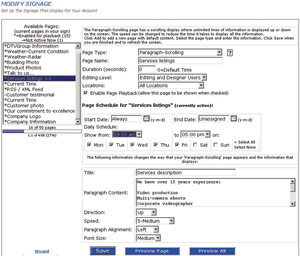 StrandVision Digital Signage System web interface
Thus far, most digital signage solutions have required not only a major investment in hardware, but also a significant commitment to learning and operating digital signage software, be it from training or hiring new personnel. Few companies have a cost-effective solution for creating and continually updating signage content. It's often those less-tangible man-hour costs that prove to be the major adoption barrier. StrandVision's Digital Signage System takes a very different approach to digital signage that smartly sidesteps many of those hang-ups and hazards. As featured in SVC's May cover story, for instance, StrandVision installed the customizable service at a heavy-duty construction and forestry equipment dealer, with the client noting that the StrandVision setup required little effort on its part.
StrandVision Digital Signage System is not a product, but rather a service. You or your client will need to supply the public display monitor(s) and an Internet-enabled computer, but beyond that, there are no black boxes, management software, or other dedicated equipment to buy, nor are there likely to be people to train or hire. StrandVision uses a web-based creation interface that demands minimal creative ability, and can be up-and-running within minutes or hours, rather than days or weeks.
PAY AS YOU GO
StrandVision's service uses a subscription model, with monthly subscription rates starting at $69.95 ($54.95 if you pre-pay annually) for a single digital sign at a single location. The company's website has a complete pricing schedule (www.strandvision.com/?pricing). There are modest additional fees for adding support for more locations, content storage beyond the 4GB included in the base rate, security options, special content features like streaming video, and an expanded feature set.
Still, that base rate probably covers everything that a typical single store, restaurant, service station, or other small business would need, at least to get up-and-running. StrandVision even offers a free 30-day trial of the basic feature set to allow anyone undecided or intimidated by digital signage to see how easy it can be and how it can work in their particular business setting.
StrandVision uses a straightforward template approach that's all done through a web interface (kind of like buying a book from Amazon), building your custom content on StrandVision's servers. Once you set up an account and password, you add pages by simply selecting from one of, currently, 26 different page layouts. These include basic company profiles (including a logo you can upload), local weather pages (automatically linked to a local weather feed based on the street address you entered during the account setup), a photo/image layout, stock quotes, and so forth.
Creative souls may be frustrated by the relative inflexibility of StrandVision's templates. For example, you can't move design elements around the screen very much, nor is there much inherent ability to vary the overall design from one page to another. A preferences area does allow basic changes to font, font color, banner color, logo size, background color, and ticker colors. But, changes affect all of your pages.
However, that is not necessarily a caveat. StrandVision's entire approach is to make digital signage easy and accessible to non-technical, non-creative business owners. Keeping the options understandable and straightforward helps ensure that those typical digital signage barriers don't get in the way. And StrandVision is always willing to assist customers by designing a custom page layout using a specific style or letterhead motif. More advanced creation services are available for a fee. Of course, StrandVision would be just as happy if that fee weren't ever charged, because it would mean the basic interface was doing it's job.
Each time you add a page, it's automatically added to a playlist. And each page in the playlist can have a separate day-of-the-week and time schedule for when it should play. The text or images on any given page can be updated at any time simply by logging into the Web interface and typing in new text. (Of course, pages like weather and stock quotes are constantly updating anyway to give your entire playlist a fresh up-to-the-minute feel.)
At this time, StrandVision supports only one playlist, which will be a drawback as customers become more advanced. Since you can schedule individual playlist elements separately, you can effectively create completely different programs for morning and afternoon, or one day to the next, for example. However, that makes content management clumsy.
Of course, many of those feature limitations are a direct result of the HTML Web interface that makes StrandVision so easy. The best of both worlds may be in a forthcoming Flash-based web-interface that StrandVision is currently developing, and it would afford much greater creative and content management control. That update is targeted for some time near the end of the year.
PLAY IT
Amazingly, playing your content is immediate. Once you've added pages, all you have to do is select View Signage and your content starts playing. StrandVision's server has effectively built an Adobe Flash movie, albeit a Flash movie using ActionScript, to compile your content and display it via your local browser. Smartly, the Flash movie automatically sets your browser to full-screen mode, thereby hiding the browser borders, menus, taskbars, and URL address line.
StrandVision does offer a standalone player that you can install on your local playback computer instead of using just a browser. That's an extra step, but as a locally running application, the standalone player can integrate locally stored content on-the-fly into signage pages (like photos or spreadsheets). Storing larger image files locally cuts down on use of StrandVision's limited bandwidth and storage, and thus, potentially extra fees.
StrandVision's Digital Signage System is not particularly flashy, nor at all advanced compared to dedicated digital signage applications such as Scala Infochannel or Harris' InfoCaster. StrandVision also isn't likely to be the best solution for large installations such as airports and sports arenas. But that's all by design. Individual restaurants, service stations, convenience stores, and business lobbies may not be as glamorous as airports and sports arenas, but there are a lot more of them, and collectively they're likely to be the clients that ultimately drive digital signage. StrandVision's service opens the door for that market.
---
PRODUCT SUMMARY
Company: StrandVision www.strandvision.com
Product: Digital Signage System
Pros: Non-technical usability, immediate content playback.
Cons: Inflexible page templates.
Applications: Digital signage for small business owners.
Price: $69.95 starting monthly rate ($54.95 with annual pre-pay) for Primary Signage Subscription.
---
SPECIFICATIONS
Minimum system requirements
Computer system capable of running a web browser and Flash (Pentium III 500mHz or higher for animated pages and 2GHz or faster computer for video playback)
Dedicated Internet connection connected 24 hours a day
Sound card if using audio
Web browser that supports Javascript and Flash (Internet Explorer 3.0 or Netscape 4.0)
Viewing device (most basic is a computer monitor)
Primary Signage Subscription features
50 signage pages
1000 hours of full-time usage (based on non-graphical signage pages updated every 15 seconds)
4MB memory space
10GB of information broadcast per month