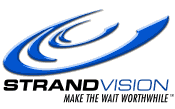 FOR IMMEDIATE RELEASE
MENOMONIE, Wis. - May 21, 2013 - StrandVision Digital Signage has introduced a new free electronic signage feature that enables its customers to automatically override the normal digital signage feed in order to provide regularly scheduled or ad hoc employee training, host employee meetings and offer special communications. The option is an enhancement to the traditional emergency message override that replaces normal digital signage content in seconds. The administrator configures the selection on StrandVision's Content Management System (CMS) - scheduling training for days or even weeks ahead.
The training override schedule is designed to help StrandVision customers fully leverage their digital signage systems. They can use their employee communication signage infrastructure to deliver any of StrandVision's two dozen digital signage content templates including photos, text, PowerPoint-based slide presentations (with or without audio, depending on their installation), and even video presentations.
StrandVision's Digital Signage network is ideal for large, multi-location companies that need to efficiently distribute standardized training or corporate-wide messages to employees. This new feature makes it easy to automatically add certification training, test preparation, breaking company news, as well as special broadcasts during benefits enrollment periods.
The override feature can be scheduled hourly, daily, weekly, or in any number of other configurations, and has similar flexibility to automatically end and return to the normal digital signage broadcast. Its "set it and forget it" approach makes it easy to reach all employees on all shifts in all locations with a single, timely, consistent message. The override feature can also be manually activated or deactivated as needed until the next scheduled change.
Technimark
Technimark, an international manufacturer based in Asheboro, N.C., was the first to implement this new feature. It is using StrandVision Digital Signage to deliver PowerPoint-based training modules directly to employees in break rooms 24/7. The training modules are scheduled to automatically override the standard digital signage content on the hour, every hour, for 15 minutes. The training modules supplement training and eliminate the additional wage cost for extended shift training meetings.
"We developed this capability specifically for Technimark but soon realized its potential for all of our customers," said Mike Strand, StrandVision founder and CEO. "We're now making this available to everyone as a free digital signage option selectable on our StrandVision portal. As with all of our new features, I'm sure our customers will come up with other creative ways to use the training override that's unique to their situations."

About StrandVision
StrandVision LLC, based in Menomonie, Wis., delivers low-cost, Web-based digital signage software through a patented Software as a Service (SaaS) approach that delivers content to subscribers' LCD flat panel screens, as well as computer screens, websites and mobile devices. StrandVision's service distributes text and graphics pages, video content and national and local weather and news. It is ideal for many large and small business marketing applications, including medical and dental offices (patient education); banks, retailers and industrial distributors (video merchandising); education (student communication, staff and visitor information); employee break rooms (employee communication of events and benefits); nonprofit and religious organizations (member and supporter communication).
StrandVision also offers
PC-2-TV.net
, a fully digital, high-definition (HD)
video extender
to connect a computer to a television over long distances for use with digital signage and many other applications. StrandVision Digital Signage services and PC-2-TV.net are available directly from StrandVision and through registered affiliates and
system integrators
. Additional information about StrandVision
Digital Signage
is available at
StrandVision.com
, by calling or emailing
sales at StrandVision.com
.
###
All trademarks are the property of their respective owners.
EDITORS: For further information:
Mike Strand
StrandVision Digital Signage
6595 South Shore Drive
Altoona, WI 54720-2386
715-235-SIGN (7446)
mjstrandweb at StrandVision.com