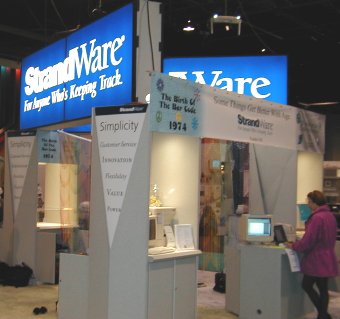 Trade shows are very important business marketing avenues and the tradeshow display exhibit is critical to getting yourself noticed and having the customer stop to visit. How many times have you been at a tradeshow when someone stops in the hallway and looks the booth design over, never making eye contact, then they walk away. Usually, this is because they cannot figure out what your company is about within the 20 seconds that they stand there, and they dont want to be sold! Or what about the times when you've had no traffic for 10 minutes, and suddenly 10 people come by when one non-qualified customer is monopolizing your time. Your trade show display design is so critical. One of the best ways to capture the trade show traffic is to have dynamic digital signage presenting your business marketing messsages and other information to keep them interested. StrandVision Digital Signage allows you to have content that is setup months in advance that can be changed in an instant from anywhere in the world. The customers are happy knowing what you do in a shorter period of time (without being sold). The sales staff are happier with more qualified leads being captured with less work and stress required. The marketing people are thrilled when the receptionist at headquarters updates the business marketing content on an hourly basis.
Usage
TV or plasma screens placed in various spots in the booth
Computer monitors incorporated in business partner's trade show display designs
One to five digital signage channels (locations) per show
The channel content contains information about each product or service being provided. The same content would normally be played in partner tradeshow booths.
Exterior channels are targeted towards information new customers. Interior display design would be geared more towards existing customers.
Used during the show with trade show content, then business lobby or employee content while not at the show.
Dynamic business marketing content requires purchase of one dedicated internet connection. May want wireless network environment for multiple parnter booths.
Content can run in standalone mode without dynamic content for up to one week.
Possible Signage Content
Business location
Tradeshow special offers
Product description
Product features and benefits
Services offered
Meeting schedule for booth staff
Booth staff schedule
Winners of drawings or prizes
Prizes being given away at the tradeshow
Flash animation video of product being used
Recognition of loyal customers
Recognition of helpful employees
Customer quotes and awards
Benefits
Monthly fee is a tiny percentage of the cost of a trade show
Builds tradeshow booth traffic

Potential customers spend more time around the booth - no pressure learning about your products
Other trade show visitors tend to stop at booths where there is a crowd to see what is offered
Visitors have something to do while waiting for a sales person to visit with

More leads that are more qualified

Less time and cost spent trying to close sales after the tradeshow
Better use of everyone's time at the trade show
Customer has a better understanding of product offering