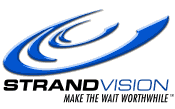 FOR IMMEDIATE RELEASE
MENOMONIE, Wis. - Oct. 22, 2009 - The University of Wisconsin-Stout has installed a digital signage software system from StrandVision LLC in its Millennium Hall technology services building.
The signage, displayed on 52-inch digital monitors, is in the building's two main lobbies. It carries announcements, lab and help desk hours, a building directory and weather with Doppler radar, as well as a special Internet-based technology news feed.
The Learning & Information Technology staff selected StrandVision. "The decision was based on StrandVision's Software as a Service (SaaS) model that minimizes hardware and networking investments and overhead, as well as day-to-day computer security and maintenance tasks," said Mike Strand, StrandVision founder and CEO. "The university digital signage network is a great addition."
The system is hosted by StrandVision, and the pages are delivered directly to the UW-Stout digital signage system over the Internet.

About StrandVision
StrandVision LLC delivers low-cost, Web-based Software as a Service (SaaS) digital signage through a patent-pending approach that delivers content to subscribers' LCD and plasma displays, as well as computer screens and Web sites. StrandVision's service distributes text and graphics pages, including advertisements, video content, and national and local weather and news. It is ideal for academic digital signage, medical and dental offices (patient education), banks, retailers and industrial distributors (video merchandising), employee break rooms (events and benefits), non-profit and religious organizations (member and supporter communications), and other applications.
StrandVision also offers PC-2-TV.net, a fully digital, high-definition (HD) personal computer-to-television adapter for use with digital signage and many other applications.
StrandVision Digital Signage services and PC-2-TV.net are available directly from StrandVision and through registered affiliates and system integrators (
http://www.strandvision.com/?digital_signage_installers
). Additional information about StrandVision is available at
http://www.strandvision.com
, by calling or emailing
sales at StrandVision.com
.
###
All trademarks are the property of their respective owners.
EDITORS: For further information:
Mike Strand
StrandVision Digital Signage
6595 South Shore Drive
Altoona, WI 54720-2386
715-235-SIGN (7446)
mjstrandweb at StrandVision.com