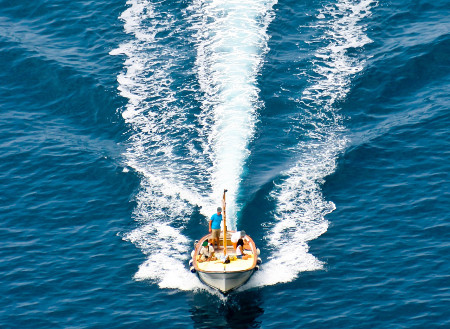 Most of us have been on a rowboat and experienced how difficult it is to get directly to our destination.  We are plagued with wind, waves and tired arms.  Displaying all of your signage content is a similar situation. By using the scheduling capabilities of your StrandVision account, it can help you cruise quickly and directly to better visitor and employee communications.
If your guests or employees can guess what is coming up, they may get bored and eventually stop watching, preventing your communication message from getting across at all.  The playback schedule is a really nice way to keep that content diverse.  You can easily start / stop each page on specific dates and schedule them to play on specific hours, days, weeks or months. This means that you can do your StrandVision updates when it's convenient for you – not just before the pages have to be displayed.
This video demonstrates how scheduling digital signage content on StrandVision can keep your content fresh, target people based on their demographics and improve your marketing and employee communications.
If you do not have an electronic signage account from StrandVision, you can create one at no charge for 30 days with no payment information requested and no obligation at http://www.strandvision.com/free_digital_signage_software_testdrive.html.
To subscribe to StrandVision's Digital Signage video channel, go here and subscribe.