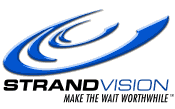 FOR IMMEDIATE RELEASE
WASHINGTON, N.J. - Sept. 18, 2007 - Warren County Community College (WCCC) has installed a digital signage system from StrandVision LLC to keep students abreast of college news and inform campus visitors. The system, which was funded through grants, uses LCD television displays in the lobby, lounge and dining areas.
College administrators recognize that communications is vital to the college community. Explained Lamont Rouse, director of institutional research & grants, "It's not just for students; we have a lot of visitors to the campus. The system allows us to promote our brand identity and you just can't do enough of that. So, each time someone comes through our front door, we have an opportunity to communicate with them."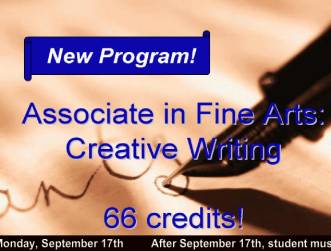 The StrandVision Digital Signage system is subscription-based and relatively inexpensive. In-house facilities and information technology staff helped keep costs down by handling the installation. Commented Jeremy Beeler, WCCC registrar, "We had several people on campus working on the project. Our facilities and IT departments worked together to get the system up and running and I did the design setup with the StrandVision software. We spread the load about a bit."
StrandVision's innovative approach to digital signage is ideal for colleges and any organization that requires timely information distribution. It is an Internet-based service that connects to televisions, LCD or plasma screens via cable television or computer networks. The WCCC system is managed by Beeler who logs onto his StrandVision administrator console over the Internet. He regularly updates the content and uses innovative features, such as embedded videos, as well as slides that count down by the minute to special happenings, such as the beginning of the fall semester.
Now, as the college moves into its fall semester, the digital signage system is fully operational. "I'm very happy with the system. It's effective, it's easy to use, it's convenient," concluded Beeler.
About StrandVision
StrandVision LLC, previously Online-Kiosks, delivers low-cost, high-availability hosted digital signage services through a patent-pending, Internet-based approach that eliminates the need for complex and expensive onsite hardware. It delivers content directly to subscribers' televisions, including LCD and plasma displays, and computer screens. StrandVision's Web-based service makes it easy to set up, maintain and quickly distribute text messages and graphics, including advertisements, video content, and national and local weather and news. It is ideal for medical and dental offices (patient education), banks, retailers and industrial distributors (video merchandising), employee break rooms (events and benefits), non-profit and religious organizations (client and supporter communications), and other applications. StrandVision Digital Signage services are available directly from StrandVision and through registered affiliates and system integrators (www.strandvision.com/digital_signage_installers.html). Additional information about StrandVision and a free trial subscription are available at www.strandvision.com, by calling or emailing sales at StrandVision.com.
###
All trademarks are the property of their respective owners.
EDITORS: For further information:
Mike Strand
StrandVision Digital Signage
6595 South Shore Drive
Altoona, WI 54720-2386
715-235-SIGN (7446)
mjstrandweb at StrandVision.com
More information: http://www.prweb.com/releases/2007/4/