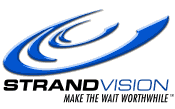 For Immediate Release
PLYMOUTH, Minn. - March 31, 2009 - WestHealth, which provides convenient outpatient health care services in the Twin Cities, has completed the renovation of its atrium lobby with a digital signage system from StrandVision LLC of Menomonie, Wis. The signage, installed in a kiosk, along with a touch screen way-finder directory, greets the 1,700 to 2,000 staff, patients and visitors who go through the Campus Drive facility lobby each day.
The digital sign mix includes WestHealth's mission statement and values, as well as announcements for community events such as food drives, fund raisers, etc. It also carries local weather and maps, and health news that is available on the Internet and streamed by the StrandVision server.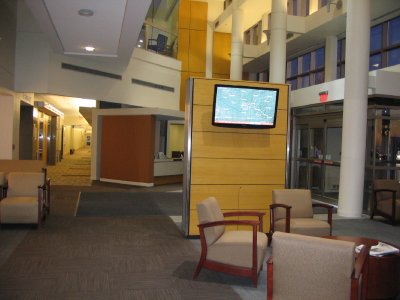 "We were attracted to StrandVision's ease-of-use, low cost, subscription pricing and convenience," said Cindy Kehus, information services coordinator/information security officer. "We planned for it during the renovations by running a network connection to the kiosk. All we had to do was add the 42-inch LCD screen and a personal computer, and the signage system was set to go."
Available as a subscription service that is delivered over the Internet, StrandVision provides content directly to clients' digital signage receivers. Subscribers simply log onto the StrandVision Web site where they can fully manage their digital signage content by making their selections from a number of StrandVision's predefined options, upload and schedule pages, and add pictures and graphics. All updates appear on the local screen in a few minutes.
The WestHealth digital sign is easily updated by adapting existing marketing materials. Executive Assistant Joyce Rubin uses Adobe InDesign to design or adapt the pages. She then converts the designs to a standard graphics format for posting to StrandVision. This level of expertise with the StrandVision system was achieved without training. Rubin simply logged onto the StrandVision site and experimented with the optional design formats.
About StrandVision
StrandVision LLC delivers low-cost, Web-based Software as a Service (SaaS) digital signage through a patent-pending approach that delivers content to subscribers' LCD and plasma displays, as well as computer screens and Web sites. StrandVision's service distributes text and graphics pages, including advertisements, video content, and national and local weather and news. It is ideal for medical and dental offices (patient education), libraries, banks, retailers and industrial distributors (video merchandising), employee break rooms (events and benefits), non-profit and religious organizations (member and supporter communications), and other applications.
StrandVision also offers PC-2-TV.net, a fully digital, high-definition (HD) personal computer-to-television adapter for use with digital signage and many other applications.
StrandVision Digital Signage services and PC-2-TV.net are available directly from StrandVision and through registered affiliates and system integrators (www.strandvision.com/digital_signage_installers.html). Additional information about StrandVision is available at www.strandvision.com, by calling or emailing sales at StrandVision.com.
###
All trademarks are the property of their respective owners.
EDITORS: For further information:
Mike Strand
StrandVision Digital Signage
6595 South Shore Drive
Altoona, WI 54720-2386
715-235-SIGN (7446)
mjstrandweb at StrandVision.com