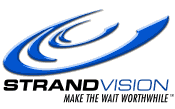 FOR IMMEDIATE RELEASE
WILKES-BARRE, Penn. - Sept. 6, 2007 - Wilkes-Barre Family YMCA recently renovated its lobby and, as part of the project, installed a digital sign from StrandVision LLC of Eau Claire, Wis. The digital signage service, purchased through Guyette Communication Industries Corp. of Plymouth, Penn., provides timely information for members on Y programs, camps and events, member and team scores and results, and other news of interest.
The original plan was to install a scrolling text-only message display. A board member recommended that they explore digital signage. StrandVision was chosen due to its ease of use, low cost and flexibility. The digital sign is updated frequently by the assistant director, the membership director or the front desk manager.
Commented Nicky Pachucki, YMCA assistant director, "I had a 20-minute interactive training session with StrandVision and I was ready to go. It's so easy to catch on. They give you the template for all of the pages that you need to have. They put our logo on our digital sign. Now, we put in our own messages and download pictures from our gymnastics classes, camp and other activities whenever we want."
Y staff update the digital sign by logging on to StrandVision's site on the Internet and filling in Web forms. The LCD television display in the lobby is immediately updated over the Internet. Sign pages include:
The mission statement
Y merchandise
Each day's wellness (exercise) class schedule
Membership information
Day and guest pass information
News and weather

A quote of the day
A staff directory
Information about camps
Event results and standings
Pictures of Y activities
Daily specials in the café
"This is a great way for Ys to communicate with their members," commented Mike Strand, StrandVision founder and CEO. "Digital signs are attractive and informative. They help build a sense of community. The Wilkes-Barre Family YMCA is doing an outstanding job with their sign and we know that they're really just beginning to see its potential."
About StrandVision
StrandVision LLC, previously Online-Kiosks, delivers low-cost, high-availability hosted digital signage services through a patent-pending, Internet-based approach that eliminates the need for complex and expensive onsite hardware. It delivers content directly to subscribers' televisions, including LCD and plasma displays, and computer screens. StrandVision's Web-based service makes it easy to set up, maintain and quickly distribute text messages and graphics, including advertisements, video content, and national and local weather and news. It is ideal for medical and dental offices (patient education), banks, retailers and industrial distributors (video merchandising), employee break rooms (events and benefits), non-profit and religious organizations (client and supporter communications), and other applications. StrandVision Digital Signage services are available directly from StrandVision and through registered affiliates and system integrators (www.strandvision.com/digital_signage_installers.html). Additional information about StrandVision and a free trial subscription are available at www.strandvision.com, by calling or emailing sales at StrandVision.com.
###
All trademarks are the property of their respective owners.
EDITORS: For further information:
Mike Strand
StrandVision Digital Signage
6595 South Shore Drive
Altoona, WI 54720-2386
715-235-SIGN (7446)
mjstrandweb at StrandVision.com
More information: http://www.prweb.com/releases/2007/4/