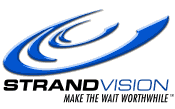 FOR IMMEDIATE RELEASE
StrandVision Digital Signage has added a YouTube Channel to offer short, targeted, information sessions and tutorials on StrandVision's cloud-based service, specific electronic signage features and general digital signage topics, including installation, content design and visitor/employee communication recommendations.
These training clips are targeted to individual digital signage topics and are designed for both resellers and customers to complement StrandVision's scheduled Webinar training sessions that offer a broad overview of StrandVision's capabilities and how to use the company's online portal Content Management System (CMS). Pages on the StrandVision Web site also include links to specific training videos, when appropriate.
"Designing and updating electronic signage content with StrandVision's Web-based signage is easy and intuitive," commented Mike Strand, StrandVision founder and CEO. "Non-technical administrative and clerical staff can easily pick it up and run with it in minutes. The StrandVision 30-minute Webinars are designed to help them utilize more of the system with a minimal investment in time. Plus the always available YouTube clips are designed to further enhance StrandVision's ease-of-use by offering step-by-step demonstrations of genera- to-advanced functions including videos, databases, and importing from the Web."
The StrandVision Basic Digital Signage Webinars are free of charge to anyone and scheduled on the second Tuesday at 12:00 Noon Eastern and the third Thursday at 3:00 PM Eastern of each month. Registration is at: http://www.strandvision.com/digital_signage_webinars.html. More advanced Webinars on various topics are also frequently scheduled and can be found on the same sign-up page. Once registered for free electronic signage training, email reminders with instructions on how to connect to the meeting are emailed a day and an hour before the Webinar.
The YouTube videos are available on demand at: https://www.youtube.com/user/ElectronicSignage. Some videos have already been posted with new entries added weekly. Subscribe to the channel to receive reminders as new videos are posted. In addition to supplemental videos accompanying press announcements, here is the schedule of training videos available and what's planned for the balance of the year:
| Date | Description |
| --- | --- |
| 20-Aug. | Welcome to the video channel |
| 27-Aug. | Get 30 days free with the test drive |
| 3-Sep. | Free digital signage webinars |
| 10-Sep. | Ways to contact StrandVision |
| 17-Sep. | Pricing options, getting a proposal and how to purchase |
| 24-Sep. | Overview of the StrandVision Web site operation |
| 1-Oct. | Key areas to review on the public Web site |
| 8-Oct. | The Hyatt Hotels portal |
| 15-Oct | Benefits of becoming a reseller or affiliate |
| 22-Oct. | Logging into your account and the summary status screen |
| 29-Oct. | The "Your Company" menu (location, business hours/time zone) |
| 5-Nov. | An overview of StrandVision locations/display groups |
| 12-Nov. | How to manage your people/employee pages for automatic birthday anniversary display |
| 19-Nov. | Managing authorized StrandVision administrators (change your info, add others, specific screen location access) |
| 26-Nov. | Configuring your company's preference settings (user mode, all settings, background music) |
| 3-Dec. | Ways to view your signage (including sharing via email) |
| 10-Dec. | Installing signage on a Windows PC |
| 17-Dec. | Installing the preconfigured StrandVision R360 Linux PC |
| 24-Dec. | Mounting a TV screen to the wall |
| 31-Dec. | Setting up a news crawl across the bottom of the signage screen |
About StrandVision
StrandVision LLC, based in Menomonie, Wis., delivers low-cost, cloud-based digital signage software content to subscribers' digital media player displays, as well as computer screens, websites and mobile devices. StrandVision's patented approach distributes customer created text, graphics, videos, RSS/social media feeds along with pre-packaged worldwide, national and local weather and news. It is ideal for many business marketing applications for waiting rooms (patient and customer information); banks and retailers (video merchandising); education (student, staff and visitor information); business and industrial settings (employee communication and operational/performance information); as well as nonprofit and religious organizations (member and supporter communication).
StrandVision also offers supporting digital signage hardware including PC-2-TV.net, a fully digital, high-definition (HD) video extender for long distance multi-screen distribution, Linux digital media players to ease and optimize electronic signage network installation and several large-format displays including freestanding pedestal displays. StrandVision Digital Signage services, installation and equipment are available directly from StrandVision and through registered affiliates and system integrators. Additional information about StrandVision Digital Signage is available at StrandVision.com, 715-235-SIGN (7446) or by emailing sales at StrandVision.com.
###
Names may be trademarks of their respective owners.
EDITORS: For further information:
Mike Strand
StrandVision Digital Signage
6595 South Shore Drive
Altoona, WI 54720-2386
715-235-SIGN (7446)
mjstrandweb at StrandVision.com