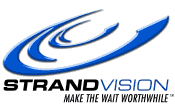 FOR IMMEDIATE RELEASE
MENOMONIE, Wis. - August 3, 2010 - StrandVision LLC today announced that it has arranged to license all 27 digital signage content feeds from StreamScreen.com. The new feeds are available to StrandVision Digital Signage subscribers for no additional charge. The content is also offered during the trial period for customers who sign up for the free digital signage software subscription that is being offered through the Summer of Digital Signage program. As part of the arrangement, StrandVision is retrieving and processing the feeds for StreamScreen to provide to their other customers.
The 27 content feeds include news on business, markets, real estate, sports, politics, regional, lifestyle, entertainment, automotive, science and technology. They are updated every 30 minutes and provide a wealth of entertaining information that captures attention to the marketing messages on subscribers' signage.
"We initially talked to StrandVision about licensing our two feeds and in a week, the relationship blossomed into the ability to offer 27 compelling feeds," said Calen Sares, StreamScreen.com president. "The knowledgeable staff at StrandVision were able to quickly help us convert several other information sources into viable revenue streams to help expand the digital signage marketplace."
"Compelling content is the most important thing to draw attention to an electronic digital sign," commented StrandVision Founder and CEO Mike Strand. "Keeping that content copyright legal is equally as important. I am pleased to know that our new partnership provides entertaining and legal news feeds for our subscribers, and that we are a part of StreamScreen's mission to expand the digital signage market."
StrandVision has already upgraded its digital signage network of players to work with the new licensed content. New and current subscribers can add the new licensed content to their signage with the add page wizard by signing in with their secure login information on the StrandVision.com web portal.
About StrandVision
StrandVision LLC, based in Menomonie, Wisconsin delivers low-cost, Web-based Software as a Service (SaaS) digital signage through a patented approach that delivers any business marketing message to subscribers' LCD and plasma displays, as well as computer screens and websites. StrandVision's service distributes text and graphics pages, video content, and national and local weather and news. It is ideal for medical and dental offices (patient education), banks, retailers and industrial distributors (video merchandising), education (student, staff and visitor information), employee break rooms (events and benefits), non-profit and religious organizations (member and supporter communications), and other applications.
StrandVision also offers PC-2-TV.net (http://www.pc-2-tv.net), a fully digital, high-definition (HD) personal computer-to-television adapter for use with digital signage and many other applications.
StrandVision Digital Signage services and PC-2-TV.net are available directly from StrandVision and through registered affiliates and system integrators (www.strandvision.com/digital_signage_installers.html). Additional information about StrandVision is available at http://www.strandvision.com, by calling or emailing sales.
###
All trademarks are the property of their respective owners.
EDITORS: For further information:
Mike Strand
StrandVision Digital Signage
6595 South Shore Drive
Altoona, WI 54720-2386
715-235-SIGN (7446)
mjstrandweb