This month we have two slide examples. The first, from Warren County (New Jersey) Community College, taps into Halloween. It is a good example of how you can quickly alter and update signage to take advantage of events and holidays, and keep your presentation fresh. The graphic is festive and the type font used is readable yet creative. It can be combined with the scheduling feature so that it stops playing on November 1.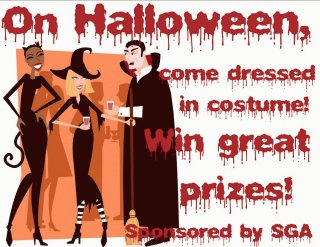 Customer contact:
Jeremy Beeler
Registrar
Warren County Community College
See related article
The second slide, from Premier Villages, a retirement village in Australia, offers a good example of an "introduction page." It is an excellent way to make viewers aware of what is coming up next and prepares them to read the next message. By keeping this intro page format consistent, viewers become conditioned to anticipating upcoming information.
Customer contact:
Mark Harrington
Technology Director
Independent Management Group
(Reviews by Stacey Curtis - Stacey Curtis Design)