Reader boards are common in large hotels and most large-scale companies can afford to spend the money to assign staff and invest in technology to take care of their reader board systems. For smaller organizations, though, conference room reader boards have been too expensive to install and maintain - and they usually don't look as good as they should and require constant attention to keep up to date and accurate - until now.
Recently, StrandVision Digital Signage has driven down the price and improved ease of use to the point where a simple digital signage installation can solve the reader board problem for virtually any organization. Hotels, restaurants, corporate offices, conference centers, schools and colleges, hospitals, clinics, multi-tenant buildings, libraries, municipal offices, houses of worship, the list goes on - want to be able to efficiently and attractively announce meetings and this can translate into sales for you. The design and installation are easy.
One Summary Display - A Display at Every Room
Let's take a small hotel as an example to demonstrate how you can spec and deploy a digital signage reader board for virtually any situation. Imagine a hotel with six meeting rooms. The ideal would be to have a display in the lobby that's manually updated daily (or can easily be updated automatically as schedules change) showing the meetings and times for all of the rooms that are being used and by what group with a meeting title or topic of the presentation.
The display could scroll through all the active and upcoming meetings by conference group or have an individual page per group or room. The digital signage system can even include a room finder diagram. This lobby signage display would greet guests as they arrive to direct them to the proper conference room. The same information can also be shown on the in-room cable system.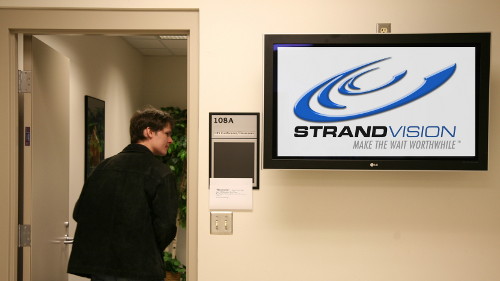 Then, outside of each of the six meeting rooms there would be an electronic display to show what was scheduled only for that particular room. It displays the information for all of the current and upcoming meetings for the day. This information would be driven from the same digital signage network but would automatically select and update only that room's schedule and information. The digital signage displays in the lobby (and optionally outside the individual rooms) could also provide other pages of information, such as promotions for the hotel restaurant, the weather, company slogans and logos.
Technically, all of this can be done today. The real key to a successful, useful reader board network is to have accurate information that's automatically delivered to the digital media player displays.
Real Time Updating
The solution is to tie the reader board network to a scheduling database and have the signage network frequently poll the database for updates. This can be as often as every minute. At StrandVision our systems are designed to accept any RSS feed as a free digital signage source; or we or you can customize the StrandVision system to work with high-end room reservation/scheduling software across a worldwide corporate platform. We've done that for some large hotel chains.
But, most hotels, schools and other organizations don't use that kind of expensive, sophisticated software so we've designed our system to link to Google Calendar, a free scheduler that's available on the Web. Any event that your customer enters into Google Calendar can automatically be shown on the reader board system. In this example, the hotel clerk simply adds the meeting to the schedule for the conference room at the time of booking - it can even be months or years ahead - and the meeting will automatically appear on the proper reader boards at the right time. If there's a schedule change or cancellation, an update to the Google Calendar is automatically picked up by the digital signage reader board system. It couldn't be easier. Your customer's meeting schedule becomes the digital signage display schedule.
Getting the Information Out
There's plenty of flexibility as to how you distribute the data to the reader board displays. Today, with digital televisions, tablets and even electronic picture frames there are a host of attractive, inexpensive meeting room sign display options. Any display unit that has a High-Definition Multimedia Interface (HDMI) video input, and most displays available today do, can become a wired or wireless StrandVision Digital Signage display.
Electronic signage generally requires a point-of-display personal computer, traditionally, Windows or Linux players. (StrandVision has pre-configured Linux players available at typical reseller discounts.) We also offer very low-cost, credit-card-sized PCs that are powerful enough to handle the basic reader boards. (Think the open source Raspberry Pi, Google's Chromecast or Amazon's Fire TV.) These units are incredibly small and, when specifically programmed for our digital signage network, handle all of the digital signage tasks very well.
Picture a wall mounted display screen. That's all your customers will need. Most customers build a frame around it to tie it into the rest of the decor, but that's up to them. In either case, they won't even see the PC since it'll be mounted behind the screen. We supply the low-cost HDMI computers that are preloaded with our digital signage software. It's just a matter of mounting the display, plugging in the HDMI computer and logging onto the wireless network and the signage account. That takes care of the individual rooms.
Your customer ends up with a lobby digital signage display that shows everything and individual room displays for each of the meeting rooms. Also, once they have the information available for the reader board network they can show the schedule as part of a page mix on their in-room, public or internal website and other employee or visitor-facing digital signage systems - all are additional digital signage networks that help them keep their guests informed.
Think of the Possibilities
All of this is possible today. And there are many different venues that can use these reader board capabilities. Think of your customers and what the possibilities could be:
Restaurants - Use a reader board at the entrance to automatically show the menu being served (breakfast, lunch, dinner) throughout the day. Show daily specials. Display updated weather, ads for nearby retailers, etc.
Corporate offices - Display meeting schedules for their conference center. Manage individual meeting rooms in the center and throughout the campus without having to update each room manually. They can even post notices at the rooms directing people to other locations if the room has changed or the meeting is rescheduled. The displays for unscheduled rooms can be used for employee notices of upcoming employee benefits deadlines or meetings, etc. Meeting schedules also can be posted to employee intranet sites.
Public meetings - Administrators of any building that hosts public meetings, such as state and local government buildings, schools, libraries, hospitals, colleges and churches can use the Google Calendars capabilities to inexpensively install a professional looking reader board system. It'll cut down on confusion and make it easier to manage the entire room scheduling process.
Trade Shows - Set up conference room schedules along with normal marketing messages at trade show booths and meeting rooms. Continuously showcase innovations to customers and prospects while keeping everyone's meetings on track.
Isn't it time you took a look at StrandVision Digital Signage for electronic signage including reader boards, cable head ends, employee and marketing communication? It's a great addition to your product portfolio.