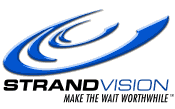 FOR IMMEDIATE RELEASE
EAU CLAIRE, Wis. - Feb. 28, 2006 - StrandVision LLC (http://www.strandvision.com), a provider of Internet hosted digital signage services, today announced scheduling capabilities for its StrandVision Digital Signs. The scheduler enables StrandVision Digital Signage subscribers to specify starting and ending dates along with times for each individual message that is distributed to viewing displays. This enables businesses and organizations to feature promotions aimed at particular audiences throughout the day, week or year.
Subscribers have the ability to target specific audiences at different times of the day, or days of the week. Each page can have a starting and ending time along with the day(s) of the week the message is to be displayed. Restaurants can now use one screen to display their specials and automatically replace mid-day lunch menu promotions with evening dinner menus; health clubs can feature mother/child information during their peak visiting hours after school and adult team schedules for other hours; banks can deliver employee messages before branches open and customer promotions during banking hours.
Using the date scheduler, subscribers can deliver different messages at different times of the month or year. For Instance, banks can feature loan rates at the correct start date to avoid premature announcements, which can result in confusion and potential advertising liability; grocery stores can time in-store specials to coincide with newspaper inserts and flyers; holiday messages can be set up to be replayed at the right time from year to year.
In addition, using the capabilities of StrandVision's recently announced digital player (See release at: www.strandvision.com/digital_signage_player_enhanced_new_server.html), combined with additional channel/location subscriptions, subscribers can send custom messages to different digital displays at locations around the building or around the world. This feature, coupled with the scheduler, can be especially helpful for marketers who want to test promotional messages for product and demographic performance at different times of the day or month in various locations.
"Our customers have been requesting the ability to do more targeted signage playback," said Mike Strand, StrandVision founder and CEO. "So, we designed a flexible, easy-to-administer scheduling system that allows subscribers to simply log into their accounts and select the dates and times for display. No need to send a request to a service company and wait for the update; no extra charge for the service; no delay - select the dates and times and it's updated on the next screen refresh. This new scheduling capability fits our approach of simplicity, economy and timeliness with customer needs being top priority."
About StrandVision
StrandVision LLC, previously Online-Kiosks, delivers low-cost, high-availability hosted digital signage services to businesses. StrandVision eliminates the need for complex and expensive onsite hardware since it delivers content directly over the Internet, using standard Unix/Linux or Windows PC equipment, to televisions and computer displays in subscribers' offices and businesses. StrandVision's easy-to-setup and easy-to-update Web-based service enables administrators and authorized users to maintain and quickly distribute text messages and graphics, including advertisements and video content, national and local weather and news, stocks and other information of interest. It is ideal for medical and dental offices (patient education), banks (video merchandising), industrial distributors (vendor-sponsored advertising), employee break rooms (events and benefits) and other business applications. StrandVision Digital Signage services are available directly from StrandVision and through registered affiliates and resellers (www.strandvision.com/digital_signage_installers.html). Additional information about StrandVision and a free trial subscription are available at http://www.strandvision.com, or by calling or emailing sales at StrandVision.com.
###
All trademarks are the property of their respective owners.
EDITORS: For further information:
Mike Strand
StrandVision Digital Signage
6595 South Shore Drive
Altoona, WI 54720-2386
715-235-SIGN (7446)
mjstrandweb at StrandVision.com
More information: http://www.prweb.com/releases/2006/2/prweb352025.htm