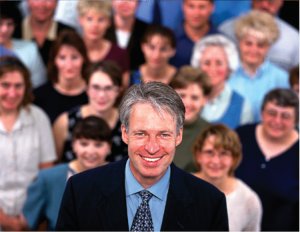 StrandVision Digital Signage was started in 2003 by Mike Strand. He previously ran StrandWare, an international bar code software manufacturer. During its initial 13 years, StrandWare produced over 27 titles, including the label design software, Label Matrix. After selling StrandWare, Mike consulted with area businesses to improve their marketing, processes, technology usage, and employee productivity.
Mike discovered that communication to customers and employees was a consistent need for these diverse companies. Wanting to help, he developed this site as an experiment. It has evolved to show custom messages to thousands of people every year. We hope to add your company to our growing customer base.
StrandVision Digital Signage believes that the employees are the key to everyone's success. It is vital to attract the best possible human resources available who also believe in putting the customer's needs first. For this reason, StrandVision has a fun, hard working culture which fosters and rewards creativity and maintains involvement in the local community.
A key to this culture is respecting every employee for the individual skills and valuable contributions they make. An open and trusting environment where employees are allowed the freedom to express their opinions will be a priority. StrandVision employees are selected based on attitudes, ability, availability, accuracy, and affordability.
Key Managers
Mike Strand is president of StrandVision, an Internet ASP that allows customers to create and provide their own custom digital signage business marketing messages to customers and employees via the Internet and a standard web browser.
Prior to this, Strand joined Milwaukee based Brady Worldwide as Global Technology Advisor in 2001 following the acquisition of StrandWare Inc., which he founded in 1988. In his previous role, he was responsible for strategic and day-to-day operations as well as the business marketing and technical direction of the company. Under his leadership, StrandWare became an internationallyrecognized name in the bar code industry and garnered several industry awards. Prior to founding StrandWare, he was a programmer with Cray Research Inc. and Delta Technology International Inc.
Strand received degrees in industrial electronic technology and data processing from Chippewa Valley Technical College in Eau-Claire, Wisconsin.
Amy Hansen is the senior executive sales manager at StrandVision. She reports directly to StrandVision founder and CEO, Mike Strand. Hansen and Strand have worked together in the past; she was international sales and distribution manager at Strand's previous company, StrandWare.
Amy has a proven track record with channel sales and support that precisely fits with StrandVision's needs. In addition to her sales and channel development responsibilities, Hansen also helps implement systems and processes for sales and marketing, and corporate administration.
Following Strand's sale of StrandWare to Teklynx International in 2001, Hansen joined that company as western U.S. territory manager. Prior to her sales positions at Teklynx and StrandWare, she held administrative positions at SuperComputer Systems Inc.; Betz Process Chemicals and Betz Energy Chemicals; and Shell Oil Company. Hansen lives in Eau Claire. She holds an associates degree in administration from the Chippewa Valley Technical College, located in Eau Claire.