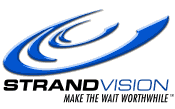 FOR IMMEDIATE RELEASE
LAS VEGAS - March 16, 2006 - StrandVision LLC (http://www.strandvision.com) of Eau Claire, Wis., a provider of Internet-based digital signage services, today announced full video capabilities for its digital signage system, here at the NSCA Expo. The low-cost option allows the flexibility to add, store and distribute video content. It does not require complex on-location setup since it uses Macromedia Flash Video technology. This is the third major StrandVision enhancement this year following announcements of a new digital signage player (www.strandvision.com/digital_signage_player_enhanced_new_server.html ) and advanced sign scheduler (www.strandvision.com/strandvision_digital_signage_scheduler.html).
StrandVision takes a radical new approach to digital signage. It hosts digital signs on its servers and delivers signage content over the Internet directly to personal computers in subscribers' offices, lobbies and break rooms for showing over local computer monitor, flat screen or television displays. The Flash Video stream is updated via any Web browser and delivered in real time to provide uninterrupted full audio and video at single or multiple locations.
Customers can load their own Macromedia Flash Video files or turn to StrandVision or an authorized installer (www.strandvision.com/digital_signage_installers.html) for conversion services. StrandVision's optional video conversion service provides one business day turnaround for most popular video formats, including QuickTime Movie (mov), Video for Windows (avi), MPEG Movie (mpg, mpeg), Digital Video (dv, dvi), and Windows Media (asf, wmv). StrandVision can also convert copyright-cleared VHS, SVHS, Mini-DV formats, CDs and DVDs.
Streaming video is a major enhancement for StrandVision," said Mike Strand, StrandVision founder and CEO. "The capability, combined with our other flexible signage services, puts us on par with digital signage services that cost thousands of dollars more for equipment, services and maintenance fees. It is fully controllable by the customer and can be updated and distributed to hundreds of locations around the world virtually instantaneously. To our knowledge, there is no digital signage service that comes even close to StrandVision in terms of affordability, reliability and responsiveness."
About StrandVision
StrandVision LLC, previously Online-Kiosks, delivers low-cost, high-availability hosted digital signage services to businesses. StrandVision eliminates the need for complex and expensive onsite hardware since it uses standard Unix/Linux, Mac or Windows PC equipment, and delivers content directly over the Internet to televisions and computer displays in subscribers' offices and businesses. StrandVision's easy-to-setup and easy-to-update Web-based service enables administrators and authorized users to maintain and quickly distribute text messages and graphics, including advertisements and video content, national and local weather and news and other information of interest. It is ideal for medical and dental offices (patient education), banks (video merchandising), industrial distributors (vendor-sponsored advertising), employee break rooms (events and benefits) and other business applications. StrandVision Digital Signage services are available directly from StrandVision and through registered affiliates and resellers (
www.strandvision.com/digital_signage_installers.html
). Additional information about StrandVision and a free trial subscription are available at
http://www.strandvision.com
, or by calling or emailing
sales at StrandVision.com
.
###
All trademarks are the property of their respective owners.
EDITORS: For further information:
Mike Strand
StrandVision Digital Signage
6595 South Shore Drive
Altoona, WI 54720-2386
715-235-SIGN (7446)
mjstrandweb at StrandVision.com
More information: http://www.prweb.com/releases/2006/3/prweb358048.htm